'You should be silent': John Shuttleworth faces his own creator | The comedy
Owhen I last saw Graham Fellows as northern singer-songwriter John Shuttleworth, back in 2015, I felt – after years of worshiping the act – that Shuttleworth needed a break and Fellows could use something new to do. Turns out, that was already happening, as Fellows' new film now shows. Father Earth – a sequel to his previous DIY documentaries, It's sunny in the north and Southern Softies – charts the comic and his aging father's journey to Orkney, to convert a crumbling church there into an eco-friendly recording studio.
This was the movie Fellows was thinking of making in 2010, when most of the film was shot. It's not quite the film he's currently filming with in Britain and will be released online next month. It's hard to pinpoint exactly what story his final cut tells, which isn't surprising given his convoluted journey on screen. Idea No. 1, Fellows explained during a Q&A in London on Tuesday, was to film his efforts to travel to Orkney in a small G-Wiz electric car. This idea was abandoned when Fellows considered the logistical difficulties, but also when his 82-year-old father offered to join him on the trip. By then, Father Earth became a buddy movie about a depressed comic and his father trying to get a dream off the ground in the windswept wilderness of northern Scotland.
It's what you think you're watching, for at least the first half of its 83-minute runtime. In a series of blurry home videos, we see Fellows and dad set out from England, picking up a boat and a giant water tank along the way. Locked away in a trailer next to a ruined chapel, Fellows attaches his toilet to his rainwater cistern, paddles in circles in a rowboat three feet from shore and films his father playing with his glasses . Charming, it is sometimes. It's not a roller coaster. My wandering mind, I thought of Johnny Vegas' Channel 4 show last year, in which he assembled a fleet of vintage vehicles for his new glamping location in Yorkshire. Artificially or not, television can pack these "celebrity chasing a dream" formats with incident and drama. Needless to say, incident and drama are not Fellows' USPs.
The film's real, if diffuse, strengths are a meditation on aging and purpose, as footage skips 12 years to find Fellows and his teenage son revisiting the Northern Isles. Fellows' father died in 2012 and he left the film – too difficult for him to watch – untouched for years. The finished edit, with its updated coda added, does not offer much closure to the story of the church's transformation. But it shows you a brown-haired son turned into a gray-haired father – which may be what happens when, like Fellows is here, you're busy doing other things.
The other compelling feature of Father Earth — the most compelling for comedy fans — is its depiction of the relationship between Fellows and his lifelong alter ego, John Shuttleworth. Fellows' efforts in Orkney are intercut with excerpts from Shuttleworth's stage act and behind-the-scenes footage of Shuttleworth and Fellows conducting split-personality dialogue in the dressing room mirror. There's also behind-the-scenes footage of Fellows' appearance, as Shuttleworth, in a 2011 episode of The Soot Showand a less glamorous look behind the curtain of artists' lives would be hard to imagine.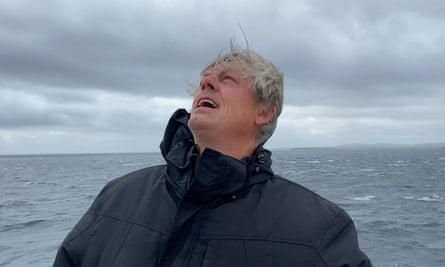 To say that Fellows has (or had, when the footage was shot) an ambivalent relationship with his fictional reverse would then be to underestimate the tension that drives this two-man madness, as Fellows – gazing sadly into that locker room mirror – grave deeper lines on his face before disappearing completely behind grimaces, "oofs" and Shuttleworth's NHS specs. "You should keep quiet," Shuttleworth tells Fellows, as the creation – optimistic, charismatic, popular – once again puts its creator in the eclipse.
Of course, all of this could also be an act. Fellows is filming it, after all. But it's very convincing. And it feels like the key to Father Earth: A Movie Revealed, in light of this Jekyll and Hyde psychodrama, like Fellows' effort to assert themselves worth more than its success at Shuttleworth. Saving the world from eco-apocalypse would do – but the movie can't convince us, or Fellows, that it's on the cards. But being a decent son and father and finding something on a rocky North Atlantic beach that you can't find on a West End stage? Well, that'll have to do, in a film that – like many road movies before it – argues more for the journey than the destination.