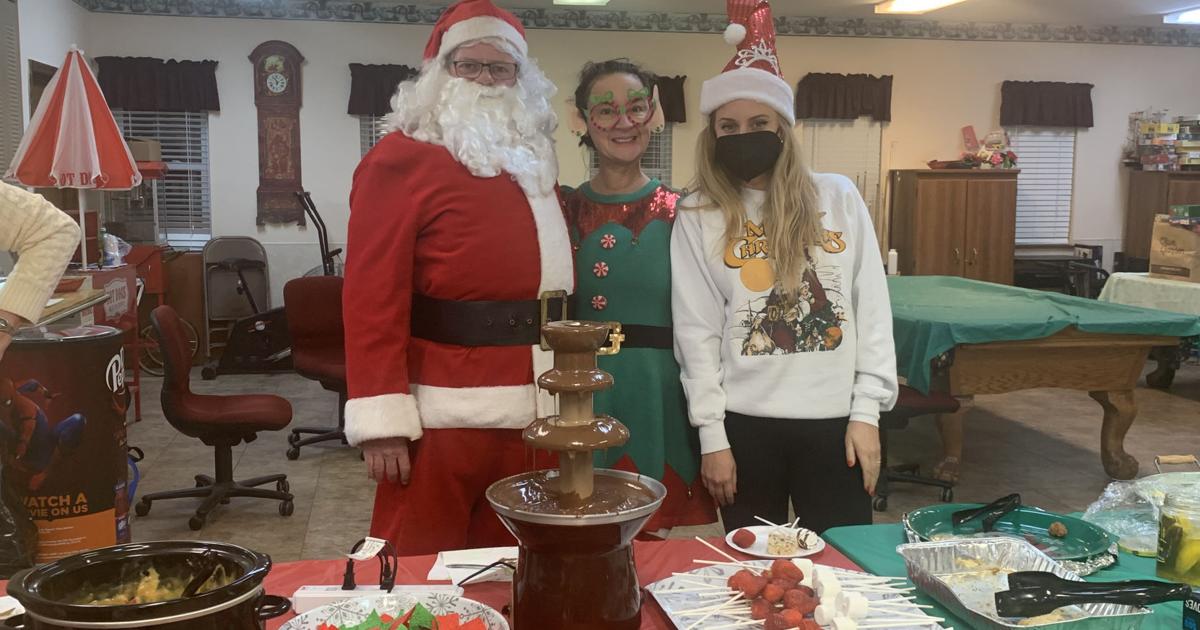 Winter Safety Tips for Seniors | Community
As I sit at my desk writing this article, there isn't a lot of activity going on today. I'm sure it's because there is still a lot of snow on the ground and in a good way I'm glad a lot stayed home. It is so easy to have an accident caused by snow and ice. We all need to be diligent when it comes to taking care of ourselves in bad weather.
My husband and I just returned from New Years in Florida. For several days we had temperatures in the mid-eighties. What a surprise to come back to several inches of snow at home!
Because we had so much snow, I thought it would be good to talk about how to stay safe this winter, especially in bad weather.
As I sit at my desk in my office writing this article, there are 75 days, 48 ​​minutes and 12 seconds until spring. No, I did not calculate this myself. I have a spring countdown on my computer. It reassures me a little to know that spring is finally here. One thing I have enjoyed this week is browsing the catalogs of plants and seeds that are slowly appearing in my mailbox. When these arrive, I feel immense joy. Just planning what to do in the spring brings a lot of happiness. But here's the reality that we still have some winter weather left and we need to prepare for it.
One thing we need to do now is plan how we are going to handle extreme weather conditions. This type of weather is dangerous for people of all ages, but it can be especially dangerous for older people. The following tips should make your winter experience more enjoyable and safer.
• Listen to weather reports. Take notes of upcoming bad weather. Preparation is the key to staying safe. Many times the power will be cut in bad weather so have a battery operated radio with extra batteries so you can always listen to weather information and closings.
• Be ready. Due to power outages, stock up on bottled water and dried or canned foods. Make sure you have a portable can opener. Long power outages can spoil the food in your fridge and freezer. Open the doors of these devices as little as possible when the power is off. This will help them keep food fresh and can prevent spoilage. If you have pets, stock up on food as well. If you have a motorized wheelchair, make sure you have an extra battery or have a backup such as a cane or walker. Have enough medicine for several days. Make sure you have plenty of warm blankets
• Stay indoors if possible. A fall on an icy stretch of sidewalk that might only injure a young person can break the bones of the elderly. Younger people also recover more quickly from these injuries. Older people face complications from falls, which can be a leading cause of death from injury in men and women over 65. Use salt and sand on the fairways to melt snow and improve traction. If you are unable to do so, ask a friend or neighbor for help.
• If you must go out in cold weather, bundle up in several layers of clothing and wear a hat, scarf and gloves. Most older people produce less body heat due to a slower metabolism. This means that they require more insulation to protect them from the cold air. Know the warning signs of hypothermia. Older people have an increased risk of hypothermia due to the changes that take place in your body as you age. Warning signs include cold, pale skin; feeling very tired, confused and drowsy; feeling weak; slowing of breathing or heart rate; slow motion speech. Call 911 if you think you or someone is hypothermic. Note: Chills are not a reliable warning sign, as older people tend to have less or not at all when their body temperature drops.
• Be careful when shoveling snow. If you choose to shovel snow, you need to take precautions. Remember, when it's cold outside, your heart works twice as hard to keep you warm. Strenuous activities like shoveling snow can put too much strain on your heart, especially if you have heart disease. Shoveling can also be dangerous if you have balance problems.
• During the winter months, it is common to use the fireplace or other heat sources such as radiators or kerosene heaters. If you use a fireplace, always have your chimney inspected annually to avoid chimney fires. Install smoke detectors in areas where you use the fireplace, wood stoves or heaters. Make sure they have new batteries. Make sure radiators are three feet away from anything that could catch fire, such as curtains, bedding, and furniture. Leave a cracked window when using a kerosene heater. If you use a candle for lighting if the power is off, never leave it unattended.
• Driving in the winter can be dangerous for anyone, but it is especially dangerous for older people who may not drive as often or whose reflexes may not be as fast as before. Have your car serviced before winter. The garage will check things like oil, tires, battery, antifreeze, and wipers which are very important during the winter. Remember to always have a cell phone with you when driving. Avoid icy roads and be especially careful when driving over overpasses or bridges. Fill your car with emergency supplies such as: a first aid kit, blankets, extra clothing, booster cables, windshield scraper, shovel, rock salt, water and canned food and a flashlight. It's always better to be over-prepared than not at all prepared.
• Communication is a key factor in ensuring safety during the winter. The most important tip to keep in mind during the colder months is to seek help. Don't hesitate to ask a neighbor, friend or family member to clear your property of snow and ice. Arrange trips to the grocery store and doctor's appointments. Our community has shuttle services such as SETHRA which will provide transportation if needed. Don't be afraid to ask for help. Also, if you have an older family member or neighbor, be sure to watch them, especially during the colder months.
Winter can be challenging for seniors, but with a little planning and awareness, you'll stay healthy and remember that spring is here in 75 days!
We decorate a tree with mittens, gloves, scarves and winter hats during the month of January. The props will be brought to Mountain View Elementary for the children who need the winter items. If you would like to donate to our Mitten Tree Project, please bring your belongings to the center during regular business hours.
We have a lot of exciting activities coming to the center. Here is a sample of a few of them:
• January 7: 9:30 am – Exercise; 10 a.m. – Bingo with Caris Home Health; 11 a.m. – New Year's puzzles and games
• January 10: 9:30 am – Exercise; 10 a.m. – Bingo with Patty Parks; 11am – What's new in 2022?
• January 11: 9:30 am – Exercise; 10 a.m. – Bingo with Cameron Medical Supply; 11h00 – Useless anecdotes
• January 12: 9:30 am – Exercise; 10 a.m. – Elvis Presley's birthday celebration
• January 14: 9:30 am – Exercise; 10 a.m. – Bingo; 11 a.m. – National Bean Day fun and games
Sue Walker is the Executive Director of the Etowah Area Seniors Center. She can be reached by dialing 423-781-7632.
Sue Walker is the Executive Director of the Etowah Area Seniors Center. She can be reached by dialing 423-781-7632.