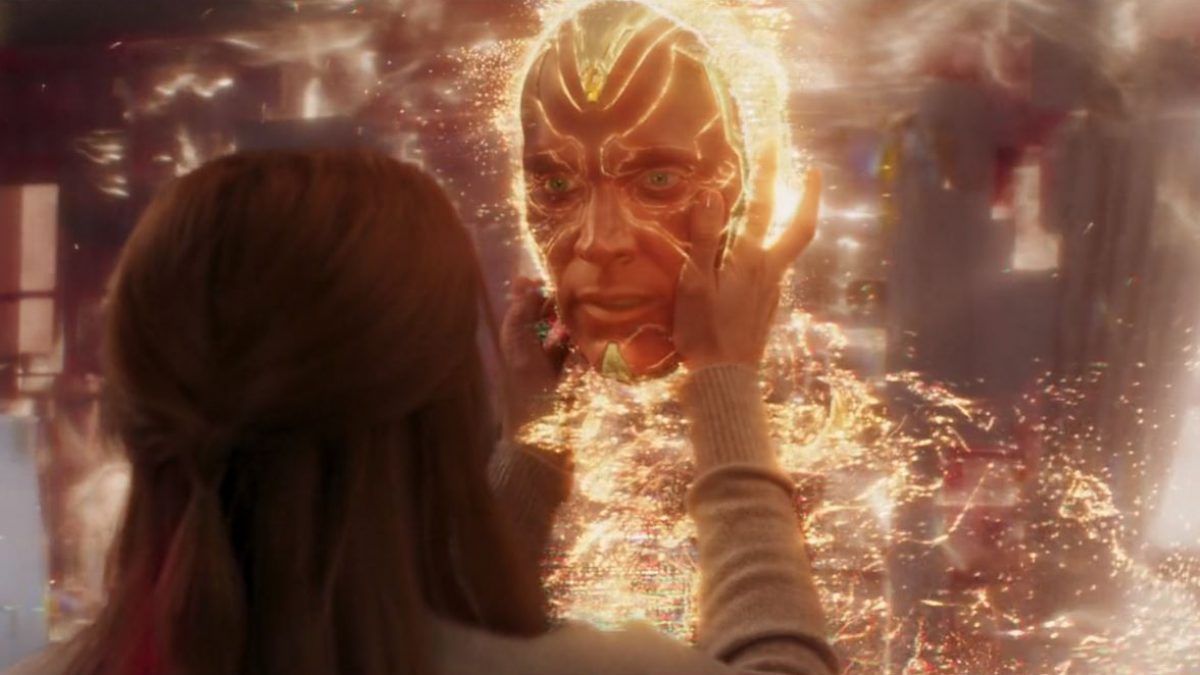 VFX Studios Celebrate WandaVision's One Year Anniversary
Marvel Studios' first superhero sitcom was Wanda Vision. Kicking off Phase Four of the Marvel Cinematic Universe, the series' first episode imagined Wanda Maximoff (Elizabeth Olsen) and her husband Vision (Paul Bettany) in a 1950s sitcom with no form of explanation. As the episodes progressed, head writer Jac Schaeffer deftly bewitched MCU fans with early episodes before wondering what really happened to Wanda after losing Vision.
Premiering on January 15, 2021, during the deadliest month of the COVID-19 pandemic (at least in America) so far, Wanda Vision became an overnight global phenomenon as the country was set for a show that dealt directly with grief and loss. And to mark the anniversary of Wanda Vision, VFX artists share behind-the-scenes footage of their work.
Industrial Light & Magic VFX artists Steve Moncur, ILM Visual Effects Supervisor, Stefan Drury, ILM Executive Visual Effects Producer, and James Schembri, ILM Visual Effects Producer, worked on shaping the world of Westview, New Jersey. To celebrate the show's first anniversary, they created a behind-the-scenes video of Wanda VisionEpisode 8, "Previously On", when Wanda returns to the house Vision had bought for them to grow old together, and when she first uses her chaos magic to create another being.
The video was first posted on ILM's YouTube channel yesterday. Watch it below:
On Twitter, ILM showcased some VFX work from across the series, highlighting the work they did in Episode 9, "The Series Finale", and noting that achieving the detail and particle effects on the head de Vision was a great company. They wrote, "Time flies at Westview! As we celebrate the one year anniversary of @WandaVision from @MarvelStudios, we are thrilled to give you a behind the curtain look at the compositing work that @ILMVFX has brought to the series. All episodes are streaming now on @DisneyPlus."
Go behind the scenes of WandaVision for its first anniversary
Another VFX company that worked with Marvel Studios on Wanda Vision also celebrated the first anniversary of the show, Perception. The company's design team worked on the main title sequence on ending for Wanda Vision, which was nominated for Outstanding Main Title Design for the 2021 Emmy Awards. The sequence not only captured the spirit of Wanda and Vision's love story, but also the spirit of television itself. .
On Twitter, Perception is celebrating the show's anniversary. They wrote, "It's been a year since #WandaVision premiered! To commemorate the anniversary, we're celebrating #WandaVisionWeek, showcasing our contributions to this series! Today, we're reviewing our Emmy-nominated end credits on the ending title sequence we designed for WandaVision!"
Perception also tweeted a link to the full Emmy-nominated Main on End title sequence, adding, "This title sequence features a world inside a TV built by RGB pixels, representing the perfect reality of Wanda."
You can find Wanda Vision streaming on Disney+.
Batgirl Behind The Scenes Footage Reveals Links To Other Batman Characters
Batgirl is coming to HBO Max later this year, and thanks to some behind-the-scenes photos, there might be some more familiar characters than expected.
Read more
About the Author