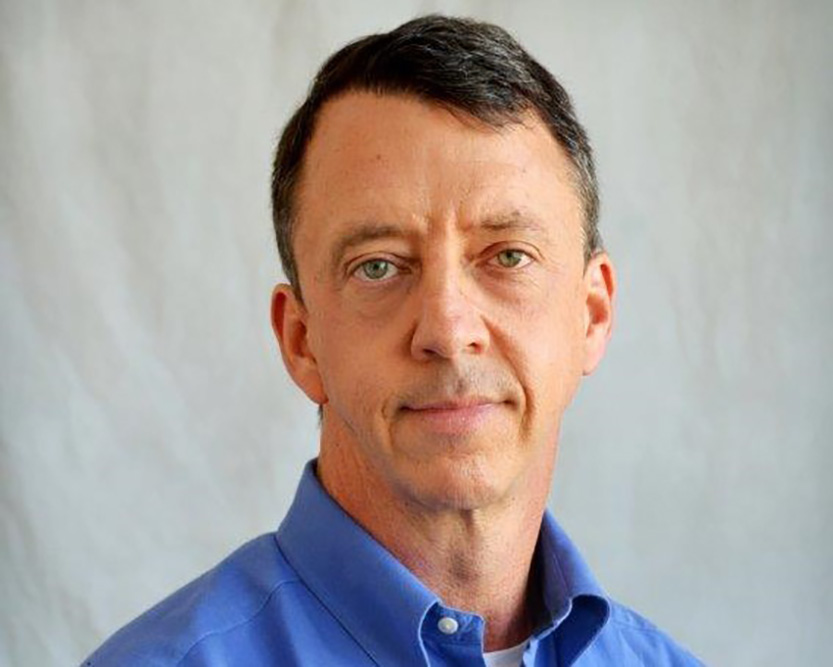 Vaughn Hagerty: the reporter who broke the GenX story
Second in a series.
Vaughn Hagerty was Trista Talton's editor during her final year and a half as a reporter at the Wilmington StarNews.
You have to wonder how long Chemours could have gotten away with dumping unregulated contaminants into the Cape Fear River if he hadn't exposed the story.
What if Vaughn Hagerty hadn't had the luxury of running out of time in the stripped-down newsrooms struggling to survive in the age of social media and the 24-hour television news cycle?
What if he had missed the story by one less mouse click?
Have we ever heard of the now all too familiar term GenX?
Would tens of thousands of Cape Fear area residents be told that the Fayetteville Works plant in Chemours had been releasing per- and polyfluoroalkyl substances, or PFAS, into their source of drinking water for decades, the air and the ground?
The story behind the story that unfolded five years ago on Tuesday and tore the curtain on man-made chemical waste dumped into the Cape Fear River concerns the career of a man who, like the river itself, features a series of twists guiding the water to its destination.
A little too corny? Hey, Hagerty himself recently told Coastal Review that he lives an "enchanted life".
Just another web developer 'Googling around'
The editor-turned-media-web-developer-turned-editor-turned-web-developer again had been a freelance journalist for a few months when, browsing websites in the spring of 2017, he came across something called the Unregulated Contaminants Watch Rule.
"It was entirely by chance," Hagerty said.
The U.S. Environmental Protection Agency, or EPA, enforces the rule every five years to collect data on unregulated contaminants by sampling water utilities nationwide.
A particular set of data centered on older PFAS caught Hagerty's attention.
Armed with his instincts as a curious journalist by nature and his experience as a web developer, he loaded the data to see what would show up for the Wilmington area. There were a few local hits, enough to make for an interesting story, he thought.
He continued to "Google around", eventually coming across an article by North Carolina university professors about legacy and emerging perfluoroalkyl substances, including one called GenX, contaminating drinking water in the Cape Fear River watershed. .
"At that point, I knew I probably had a much better story than this story that said, 'Hey, there's a little PFOA and PFAS in the water,' and that's when- that's where I started focusing on the story," Hagerty said.
He knew nothing of the intricacies of which he had to write. If I remember correctly, he got a C in college chemistry.
Like any serious journalist, Hagerty used what he could to his advantage – people who were in the know and on time.
"I'm definitely quite persistent and some people might say a bit obsessive," he said. "But, I've also been fortunate during this time to have access to a number of very intelligent and knowledgeable people who have been very generous with their time and patient with my utter ignorance of this incredibly complicated subject. I think that what I had that very few other journalists had – or even have – is that I could spend as much time as I needed to really dive into the story without having to worry about things like covering the school board or meeting my tweet quota.
He pitched the story early on at the Wilmington StarNews, the daily for which he had freelanced a few articles in early 2017. It's also the paper Hagerty, as the Subway's editor, handled the day-to-day operations of the newsroom – assigning stories to reporters, editing stories and deciding which stories went where – for three years from 2005.
The Cape Fear Public Utility Authority, or CFPUA, in Wilmington and other utilities that provide drinking water to residents of New Hanover, Pender, Brunswick and Columbus counties have been, in particular, impacted by the history of a company dumping toxins in the river.
"It really seemed like StarNews was going to be the best place for me to do the first story," Hagerty said.
A chance conversation in a gymnasium
"Toxin Contaminates CFPUA Drinking Water" was headlined on Wednesday, June 7, 2017.
Five years prior, Hagerty was working in web development for the newspaper when he was laid off.
He did pretty well as a freelance web developer after that, but he missed journalism.
Hagerty continued to report on PFAS, GenX and Chemours through 2018, including for Coastal Review.
"But, the fact is, sometimes it's very difficult to make a living as a freelance journalist or a journalist in general," he said. "So as a result, I had dipped into a lot of savings. A lot. I had already started to think that I was probably going to have to find a full-time job.
Where, he didn't know.
Then call it a coincidence, maybe fate, a health-conscious Hagerty was working out at a local gym when then-CFPUA executive director Jim Flechtner casually asked Hagerty if he knew anyone. who might be interested in applying for the position of public information officer of the authority.
"The more I thought about it, it felt like the perfect transition for me that would not only allow me to get a full-time job, but also continue to be really engaged with the story in the future," said Hagerty.
He got the job, a move that made local news and sparked backlash on social media. The latter frustrated him.
People who did not know him questioned his integrity, insinuating that corruption had landed him the job he started in January 2019.
"If you go back and look at the stories I wrote, I think you'll see that I never criticized the CFPUA," he said. "What did the CFPUA know at the time about this stuff where hardly anyone knows there's anything in the water?" I came to the CFPUA knowing full well what this organization is and who the staff are and I know that they are really, really focused on what's best for this community, and that was important for me.
Hagerty is now the authority's director of communications.
The journalist and the web developer
Hagerty's reaction when he first learned that contaminants were being released into the Cape Fear River was likely similar to those who read that first story about what was in their source of drinking water. .
"Shock, exasperation, frustration. I think the thing for a lot of people that continues to be so frustrating is the lack of health risk information for all but really a tiny fraction of the thousands of PFAS compounds, especially when what one knows about these few is usually quite troubling. Researchers are starting to add to that knowledge, but I think it's still a pretty steep climb. I'm pretty sure I have some level of PFAS in my body like about 98% of the world. I guess that's a fact.
Hagerty continues to sift through the latest documents, discussing their contents with colleagues in a place that 10 years earlier, when he was underground editor at StarNews, he would never have guessed that he would be working.
He has lived in Wilmington since taking the job in May 2005, moving from the West Coast where he worked as a web developer at a magazine in Santa Barbara, California.
By then he had gone from an editor at the start of his career, which began at a small weekly in San Antonio, Texas, to his first "real" job in journalism as an editorial assistant at the San Antonio Light, then deputy city editor, then city editor at the Corpus Christi Caller-Times.
A one-line email from his editor to the Caller-Times changed his career path slightly.
"All he said was, 'What's the time frame to get us on the Internet?' I remember that word for word," Hagerty said.
This question prompted him to learn web design and a number of programming languages. He eventually became a web developer, mostly for media companies including the Miami Herald.
"I would say I've lived, in general, what some people might call an enchanted life, but part of that, I think, is being given opportunities and then recognizing those opportunities and taking them." did he declare. "I've been lucky in my life that this has happened enough times, whether it's an editor saying what's the deadline to get us on the internet and just meeting a guy at the local college to help me learning programming languages ​​and then ending up at the Miami Herald. It's kind of a charm, isn't it?"
Later in the series: What do we do?