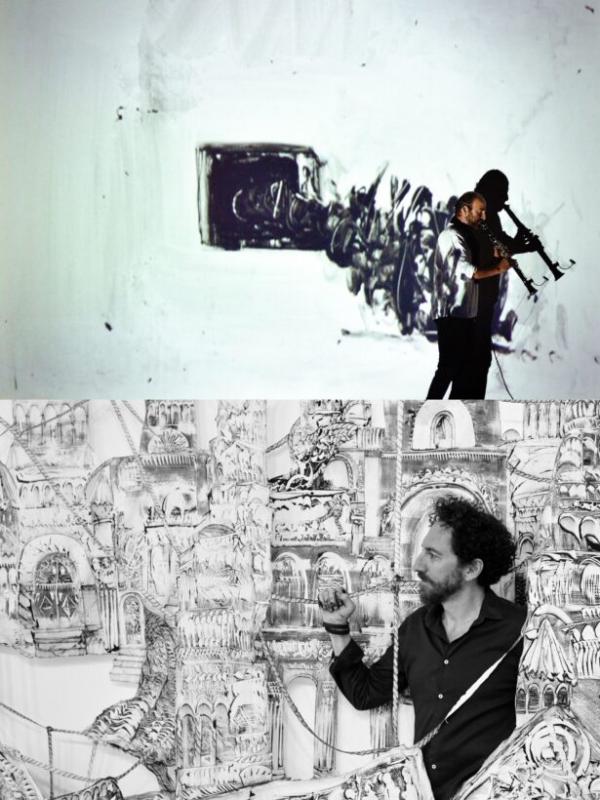 This week at the Lincoln Theater
This week Lincoln Theater is pleased to share our stage with Salt Bay Chamberfest for their 2022 Festival Concert Series. "Illuminations" offers a powerful combination of artistic elements that illuminate and transform. The light appears on each program: literally, through video projections that accompany the live music; and symbolically, through the radiant works of various composers. Illuminations will also explore the opposite of light – darkness – through musical pieces that respond to loss and grief. There couldn't be a better place than the coast of Maine, with its many lighthouses illuminating dramatic and sublime shorelines, to experience a festival of illuminations through music and art.
"At Home Inside" – Free – From Damascus to Damariscotta: Music in Response to the Syrian Conflict. An inside look at the audiovisual "Home Within" with its creators, composer and clarinetist Kinan Azmeh and visual artist Kevork Mourad. The musical performance also includes a Q&A session with the audience. Home Within is Azmeh Mourad's new project. In this work, art and music develop in counterpoint to each other, creating an impressionistic reflection on the Syrian revolution and its consequences. Rather than following a narrative, the artists document specific moments in Syria's recent history and explore their emotional content in a semi-abstract manner. Thursday, August 11 at noon.
Festival Concert 2 – Life, love and loss are intertwined in a program grappling with large-scale human suffering and personal loss. Through the music of Rachmaninoff and Home Within, a captivating audiovisual project about the Syrian revolution, the healing and redemptive power of art is on full display. Program: Rachmaninoff Trio "elegiac No. 2 in D minor, op. 9", with Sean Lee, violin; Yeesun Kim, cello; Ignat Solzhenitsyn, piano; Kinan Azmeh, clarinet; Kevork Mourad, live illustrations and visuals. Tickets: $40 adult, $38 SBC members and donors, $25 SBC for the first time; free for students! Friday August 12 at 7:30 p.m.
Festival Concert 3 – An SBC co-commissioned work to Bruce Adolphe featuring musicians from Lincoln Center's Chamber Music Society, along with Trajectories for piano with video projection, create haunting abstractions of dark and light. Dvořák's "Piano Quintet in A major", on the other hand, breaks through the clouds with hope and joy. Program: "Bruce Adolphe: Aren't there a thousand forms of grief? (co-commissioned by Salt Bay Chamberfest) with Sean Lee and Jennifer Frautschi, violin; Carla Maria Rodrigues, viola; Sophie Shao and Wilhelmina Smith, cello. Anna Thorvaldsdottir: Trajectories with Thomas Sauer, piano; visuals by Sigurður Guðjónsson. Dvořák: "Piano Quintet No. 2 in A major, Op. 81" with Jennifer Frautschi and Sean Lee, violin; Carla Maria Rodrigues, viola; Sophie Shao, cello; Thomas Sauer, piano. Tickets: $40 adult, $38 SBC members and donors; $25 SBC for first time students are free. Tuesday August 16 at 7:30 p.m.
Coming soon, tickets available now: Salt Bay Chamberfest – Festival Concert August 4 – 19; Salt Bay Chamberfest – Free Family Concert – August 20; "Top Gun: Maverick" – August 20.
Tickets are available at the door starting 30 minutes before showtime or online in advance on the theater's website at www.LincolnTheater.net. Movie tickets are $8 for adults, $6 for members and youth 18 and under. Event ticket prices vary. The Lincoln Theater is located at 2 Theater St. in downtown Damariscotta. Curtain rising!