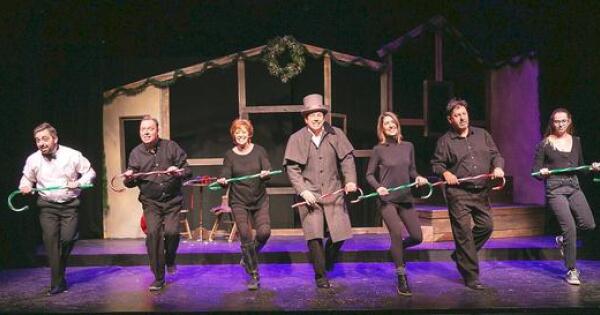 Theater Review: Everyone Deserves a Laughter Break, and "What Dickens Delivers"
Posted: Dec 10, 2018 2021 07:30 AM
NEW MILFORD – TheatreWorks New Milford Has a Hilarious and Ridiculous Take on Charles Dickens A Christmas Carol on stage this month.
What the Dickens, a silly and very entertaining play, was written by Matt Austin, together with his many equally silly friends and theater lovers. Using a wide array of references, Austin and his company pulled off a nonstop laughter party.
Although Austin is indeed the playwright, he appreciated and used the contributions of his fellow students and dear friends to create this play. The variety of gags and characters is proof not only of their individual creativity, but also of their love of the craft.
The current production cast includes some outstanding comedic talent including Matt Austin, Jody Bayer, Billy Dempster, Bob Lussier, Gary Miller and Jenny Schuck. All are regulars in community theater and each brings a level of excitement and hilarity hard to match.
The references in this original piece cover a wide range of sources, none of which will be revealed here. Let it be said, they are surprising and a lot of fun.
Here's what we can share: Shifting the place and time in 1949, Brooklyn, NY, changed the backdrop for the reconfigured classic. This was accommodated with a magnificent set design by Leif Smith.
As a director, Austin maintains a pace that fuels antics and left Saturday night audiences of last weekend laughing the whole way up.
To put What the Dickens on your vacation schedule. Everyone deserves a laughter break during the hectic holiday season, and this period piece delivers just that.
Performances continue until December 18. The curtain is Friday and Saturday at 8 p.m. and Sunday December 12 at 2 p.m.
Tickets cost $ 25. Students, military and veterans with ID will be admitted for $ 20. Reservations can be made online at theatreworks.us or by calling 860-350-6863.
The duration of the show is approximately 75 minutes.
Because of the language and innuendo inside What the Dickens, the show is not recommended for children under 13 years old.
Please also note that for this production, TheatreWorks requires that all customers wear masks and have proof of vaccination or proof of a negative COVID test within 72 hours. Prepare a photo ID.
What the Dickens, a silly and highly entertaining play written by Matt Austin in conjunction with many friends from the theater, is being offered for two more weekends at TheatreWorks New Milford. The cast includes, from left to right, Matt Austin, Billy Dempster, Jody Bayer, Bob Lussier, Jenny Schuck, Gary Millar and Delaney Dempster. —Richard Pettibone photo