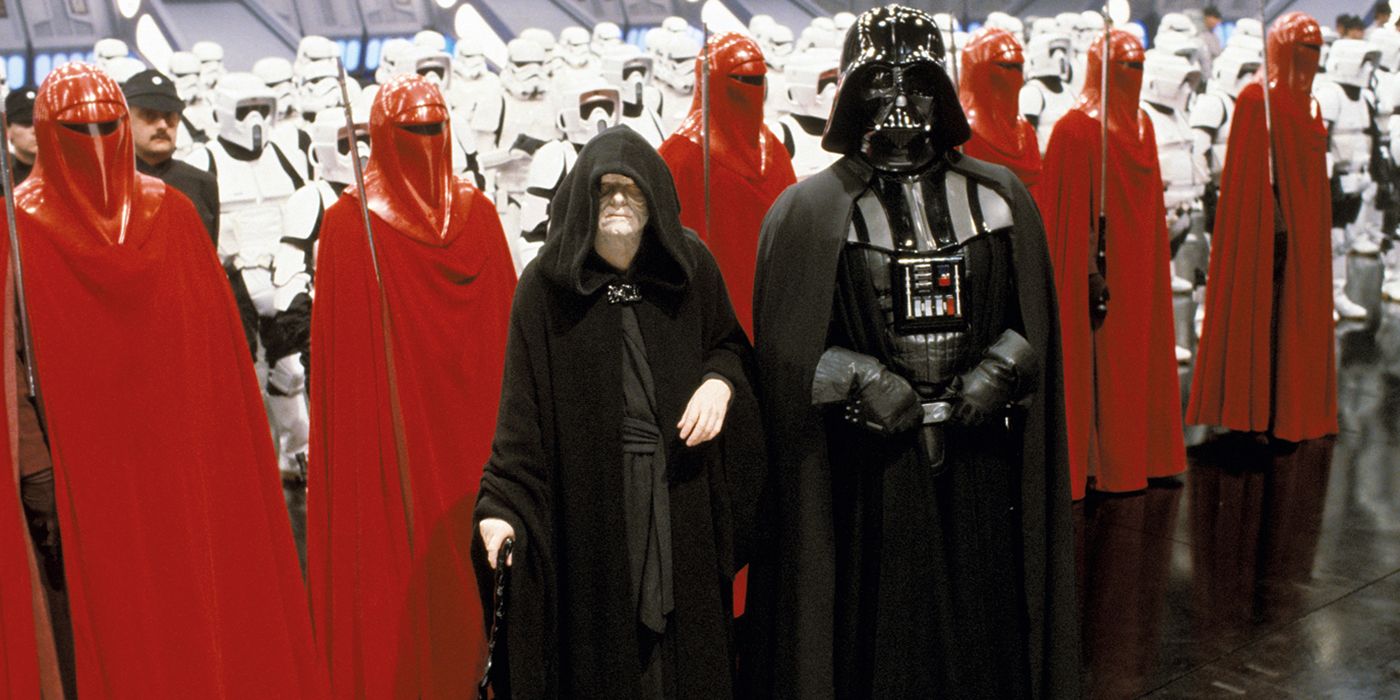 The Galaxy's Greatest Villains Reveal Palpatine's Secrets [EXCLUSIVE]
Star Wars has become a worldwide beloved phenomenon thanks not only to its epic and thrilling heroes, but also to its fascinating and complex villains. Thanks to Star Wars Insider, Screen Rant has an exclusive behind-the-curtain look at their latest curated collection that explores exactly who these masterminds are.
Star Wars: The Galaxy's Greatest Villains arrives August 30 with 176 pages of photos and behind-the-scenes details of the villains making the star wars candor so well.
Related: Why Yoda & Obi-Wan Didn't Fight Palpatine Together
Star Wars: The Galaxy's Greatest Villains is a thrilling look at the dark side of the Force, and who's more terrifying than Emperor Palpatine? Screen Rant can exclusively reveal a snippet of the interview with acclaimed actor Ian McDiarmid, who brought the role to life with Return of the Jedi. Read the interview below and don't forget to check out the exciting preview images as well.
An extract of Star Wars: The Galaxy's Greatest Villains
EMPEROR PALPATINE
The villain that even Darth Vader answers to has gone by different names – Emperor, Senator Sheev Palpatine, Darth Sidious. But whatever his name, he hasn't wavered in his desire to rule the galaxy. After first playing the character in Return of the Jedi (1983), Ian McDiarmid reprized the role for all of Palpatine's subsequent big-screen appearances.
Having been killed off at the climax of the original trilogy, it seemed Palpatine's fate was sealed – until he made a surprise return in The Rise of Skywalker (2019). Ian McDiarmid was as shocked as anyone to find out he was back.
Ian McDiarmid: I assumed he was forever relegated to the galactic hell he belonged in. It really didn't look like he was going to survive after Darth Vader pushed him down that pit, so I was very surprised to get an email from JJ Abrams' office asking for my phone number. When I finally spoke to JJ, he said, "We're thinking about bringing Palpatine back. What do you think?" Well, my first thought was, "Hasn't he been destroyed?" JJ explained that he's so smart, pieces of him are gone. the same as before, but the brain is still intact. So, I said, yes, that sounded exciting, and indeed it turned out to be.
Once I read the script, and JJ and I talked about it, it all seemed totally doable. As you see in the movie, Palpatine was in a terrible physical mess, really knocked over and hanging there in this weird contraption, but the brain was working. In the original script, he was mutilated a lot more than you saw in the movie, which is probably just as well. One line I had that didn't make the final cut was when Kylo first meets Palpatine in that first scene and says, "You're a clone!" My sentence was "More than a clone, less than a man", which for me summed it up extremely well…
When I first saw what I looked like in The Rise of Skywalker's device, I thought, "Ahh, I've finally reached my pinnacle as a Pez dispenser." It was oddly satisfying.
For McDiarmid, there were several reasons why he was so excited to play the character again.
Ian McDiarmid: What I liked was that he was so determined that he wouldn't be defeated, that he would live on in some form or another, even if it wasn't in his own body. It was a very interesting idea.
You'd imagine someone with a mind as brilliant as Palpatine would think of the afterlife and not death, and of course he hinted at what he learned from his predecessor in Star Wars: Revenge of the Sith (2005), so I figured there probably was something like that hidden somewhere.
More than that, I know JJ felt honored to have the task of tying these nine movies together, and in a way, that honor was channeled through my character. Come to think of it, Palpatine had been responsible, directly or indirectly, for all of the evil acts in those movies, so it was a dubious honor to play him again.
Along with the reveal that Palpatine survived, we also found out that he was Rey's grandfather.
Ian McDiarmid: It came out of nowhere. I met JJ, Kathleen Kennedy and casting director Nina Gold shortly after agreeing to do the film, and since I had a cup of tea JJ went through the film and told me the plot as who she was at that time. . He spared no detail, he executed it. It was exhilarating to listen to. I felt like I had seen the whole movie by the time it was over. It was an extraordinary idea to find out that I was Rey's grandfather, and somehow wonderful too. The movies are full of fathers and sons, and now also grandfathers and granddaughters, and it was a nice parallel to Kylo Ren's issues. We see how bonded Rey and Kylo are.
It was a very exciting day at Pinewood when we shot the scene where I tell Kylo I'm Rey's grandfather, because as you may know a lot of people involved in the process of making a movie don't necessarily see a script. So when we did the first rehearsal on set, there was an audible gasp throughout the studio. I thought, "Well, if there's a gasp here and we can keep it a secret, there will indeed be a really big gasp when the movie comes out!"
Across all three trilogies, Palpatine's story unfolded in an unorthodox order, jumping from middle to beginning to end.
Ian McDiarmid: Performers of long-running TV series never know how their character will develop from episode to episode, and that's not a bad thing. They suddenly discover that there's a new aspect of their character that they can call upon to play that they hadn't thought of before, and that was certainly true for me with Palpatine.
I didn't know he was a young senator when I played the Emperor in Return of the Jedi (1983), and George never really told me when we first met about the prequels. He said there were two people, the senator who rose through the ranks and eventually became emperor, and this other character. It wasn't until I got the first day of shooting call sheet that I saw my number in front of a character called Darth Sidious, and I thought that was a mistake. So I thought no, no, they don't make mistakes like that. It was only then that I knew I was two people in one. It was fascinating in itself.
Pictures of Star Wars: The Galaxy's Greatest Villains
Curated from the Star Wars Insider pages, this behind-the-scenes crawl lets die-hard fans discover how the most terrifying star wars the villains came to life on screen. Through a series of in-depth interviews and articles, audiences will be invited to learn from the actors and filmmakers who created 15 of Star Wars' most popular villains. Much like the Ian McDiarmid excerpt above, each artist will discuss the process of creating some of the most iconic characters in movie history.
Other impressive actors and characters included in the collection are David Prowse (Darth Vader) and Ray Park (Darth Maul), with contributions from George Lucas, Lawrence Kasdan (Star Wars: The Empire Strikes Back, Star Wars: Return of the Jedi, and Star Wars: The Force Awakenss), J. J. Abrams (the force awakens and Star Wars: The Rise of Skywalker), and much more.
Next: Could Palpatine Have Wiped Out The Jedi WITHOUT Order 66?
Star Wars: The Galaxy's Greatest Villains will be released on August 30 and is currently available for pre-order Amazon and forbidden planet.
Explaining Dottie & Kit's Oldest Debate From A League Of Its Own
About the Author