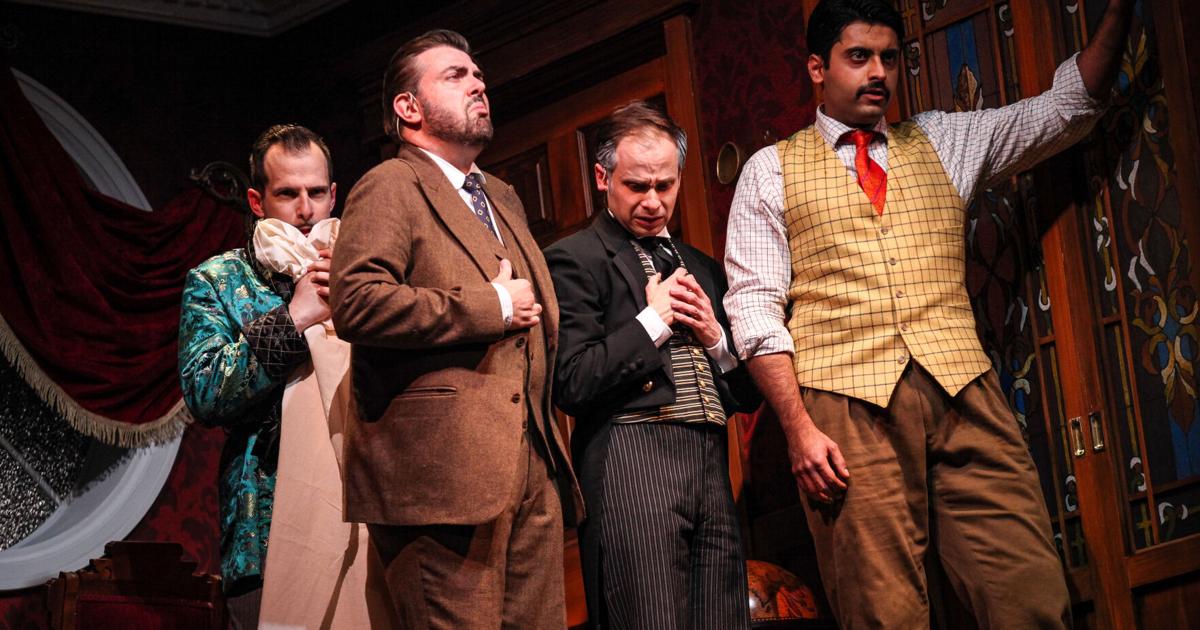 Syracuse Stage's Latest Production Brings Big Laughs and a New Concept | Arrange
The last thing audiences want to see is a theatrical disaster, unless of course that's part of the plan — which is the case for the murder mystery parody, "The Play That Goes Wrong."
Written in 2012 by three young Brits –– friends Henry Lewis, Henry Shields and Jonathan Sayer, the show won the Olivier Award for Best New Comedy and is still running in London's West End. When it came to Broadway, a friend (admittedly, a comedic playwright) passionately recommended it, so I went and found it amusing, but more silly than substantial.
I'm happy to report that the production of Syracuse Stage, under the inspired direction of Artistic Director Robert Hupp, has blurred that memory, replacing it with pure comedic genius. It helps that the scene here is more intimate and the actors are more familiar to us. But in the end, it's their expressive playing, their incredible energy and their splendid timing that overwhelm us.
Synopsis: A local theatrical society puts on their annual show, this time the squeaky old-fashioned "The Murder at Haversham Manor." The less than professional cast is led by Chris (Jason O'Connell), who both directs and plays the detective investigating the murder. We're irresistibly hooked by Chris' pre-show curtain speech, complete with a fake British accent and a self-conscious air undermined by his apologies. (No, Lin-Manuel Miranda is not in the audience, and it's not "Hamilton.")
On opening night, her Good Friday joke was hysterically tasteless. But even before its welcome, we had fun watching two overworked stagehands struggle with a less-than-perfect set and impose themselves on an impromptu assistant. (I won't say more.)
The dusty red curtain lifts to show us the dead man, Charles, lying in the living room of his mansion. (OK, so the curtain goes up while it's still moving, but it gets another chance. And another.) Designer Czerton Lim offers a large traditional paneled mansion, lit by Matthew Webb; you'll also appreciate the work of Jacqueline Herter (sound design) and Mara Rich (properties), as the whole thing falls apart beautifully for the next few hours.
Everything that can go wrong with this community production happens: doors won't open, elevators crash, coats give way, and sconces fall –– even the entire upstairs office collapses, while its occupants try not to fall. But these amateur actors carry on valiantly, pretending when props fail or disappear. (My favorites: removing a body on a stretcher without clothes or immobilizing an invisible guard dog).
The tight ensemble includes Charles (Seth Andrew Bridges), her doll-headed fiancé (Angie Janus), her lover/brother (John Tufts, also the gardener), her jealous brother (Rishan Dhamija), the loyal butler who mispronounces the words and lines of drops (Blake Segal) and the two fiery stagehands (Kate Hamill and Shabazz Green). All British Sporting Period Mystery Clothing (by Suzanne Chesney), with occasional wardrobe malfunctions.
This over-the-top prank involves scraps, slapstick, and every visual gag in the book (not to mention the subversion of Agatha Christie's old formula). You might think you're above such nonsense, but you probably aren't: along with the whole audience, I found myself laughing until it hurt, actually roaring and clapping every time these serious actors triumphed over an obstacle (or an adversary).
Carried away by comic schadenfreude, I pondered in passing whether the actors, who showed such incredible endurance amidst the chaos, remained unharmed. But then the next gag burst and took me away. Such immersion in the moment is indeed rare (especially in these difficult times): this production offers us a real gift.
"The Room That Goes Wrong", by Henry Lewis, Henry Shields and Jonathan Sayer. Directed by Robert Hupp. At Syracuse Internship through May 1. Tickets at syracusestage.org or call 315-443-3275.
Barbara Adams, regional arts journalist, teaches writing at Ithaca College.