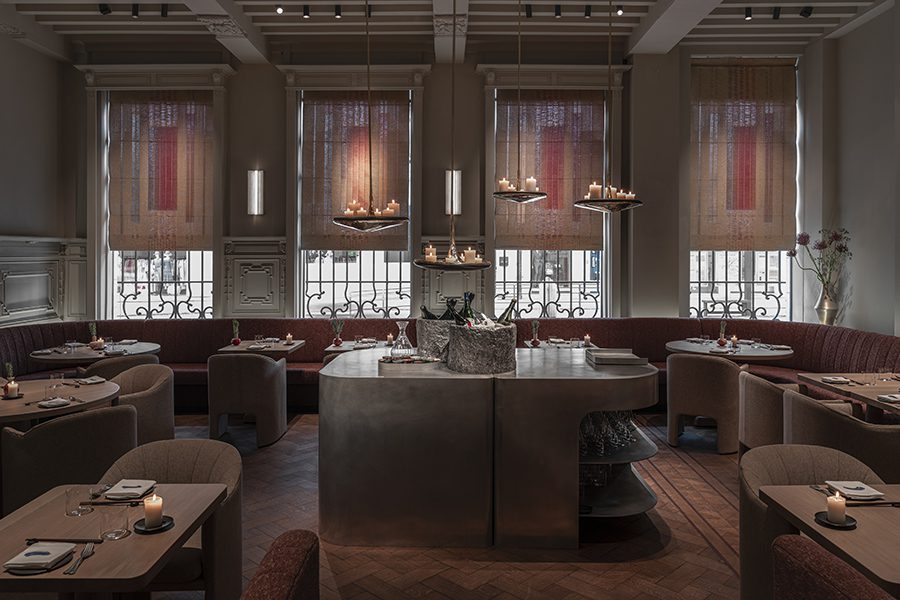 Space Copenhagen Designs Blueness in Antwerp
Space Copenhagen has completed Blueness, a new restaurant in the heart of Antwerp's fashion district. The second restaurant the Danish design studio designed for chef Sergio Herman, Blueness Antwerp occupies the ground floor of a 17th-century revival structure transformed to balance classic style with a modern Scandinavian aesthetic.
"More than anything, this project was shaped by a series of very intuitive processes, from our very first thoughts on the design of the restaurant, to the final result," says Space Copenhagen co-founder Signe Bindslev Henriksen. "The design process was informed by the fragmented history of the 17th century Renaissance building and the ongoing dialogue between the team and the commissioned artists who are central to the final design."
Much like the French and Japanese influence on the kitchen, the interior design concept is defined by duality, offering guests a bustling open kitchen to observe from a custom dark red walnut wood bar to quiet privacy and candlelit main dining room. High ceilings arch above columns with sculpted sandstone and marble accents, while elaborate ironwork frames portals and windows throughout the space.
Subtle tones of natural wood, stone, brass and linen compose the dreamy ambiance of the dining room under custom brass fixtures designed by artist Valentin Loellmann. Plush benches upholstered in hot pink fabric are paired with bespoke light oak tables for a dose of Scandinavian comfort and simplicity, while dining chairs are wrapped in sand-colored canvas and dark oak stools are set up in front of the bar. Four custom artworks by Latvian designer Germans Ermičs further elevate the drama of Blueness, with the largest room transforming the main staircase into an immersive journey through copper cladding that transitions from dark to light tones as it goes. the guests come down. Bespoke tatami curtains by Dutch artist Mae Engelgeer also adorn the windows with a muted balance.
"Blueness' design celebrates a sensual and eclectic atmosphere that invites its guests on an appetizing and playful journey fueled by surprise and expectation," adds Space Copenhagen co-founder Peter Bundgaard Rützou. "Japanese influences blend eclecticly with a classic French approach to cuisine, and classic architecture is complemented by insertions of a modern, understated Nordic character with unexpected esoteric futuristic elements to define its design language. Blueness Antwerp offers the unexpected that transports you to a dreamy realization of meaning and space.
More HD:
Brian De Lowe builds hotels that resonate
Podcast What I Learned: Bill Walshe, Viceroy Hotel Group
Tour Ci Siamo, the latest addition to the Union Square Hospitality group