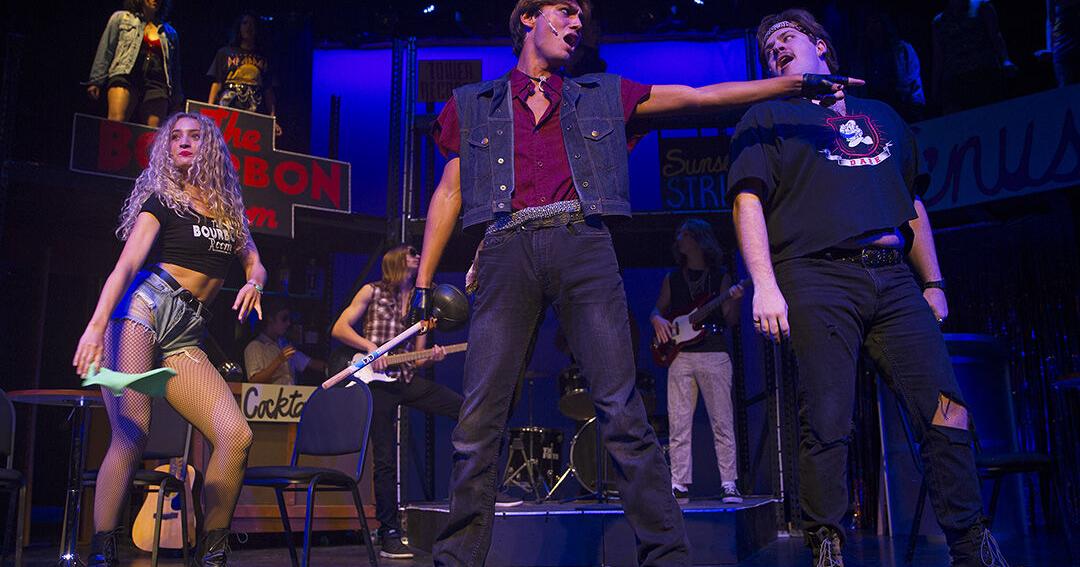 Rock of Ages ready to light up The Brauntex of New Braunfels | Community alert
The 80s are alive and well in New Braunfels this weekend – everything from the teased hair of glam rockers to loud fashions are on full display as members of the New Braunfels Performing Arts take on the musical Rock of Ages at Brauntex Performing Arts Theater .
"We do it because me and my set manager, we graduated in the 80s and we love that music," said Sherry Bettersworth, artistic director of New Braunfels Performing Arts and director of the show. "It's a show we wanted to do so badly…and it's been a lot of fun."
Set to some of the classic rock songs that defined the decade, Rock of Ages is set during the dying rock scene in a bar struggling to stay afloat. The musical follows several eccentric characters as they try to save the bar from ruin while one character finds love on his journey to fame.
"I really like all the characters on the show," said Garrett Bettersworth, who plays bar owner Dennis. "The (characters) give me the freedom as an actor to go and develop them and be really loud and explosive, but also really authentic and real at times."
High-energy musical numbers including Twister Sister's "I Want to Rock", Bon Jovi's "Wanted Dead or Alive" and Poison's "Nothin' But a Good Time" accompany the acting performances of the 20-member cast to provide a sense of nostalgia for theatergoers.
The '80s teen and adult nostalgia is heightened by the daring costumes with garments such as fishnets, crop tops and jeans that look like they were ripped from someone's closet. The atmosphere is livened up with over-the-top makeup that any headband would rock proudly.
"It's all saved (for) our outfits," said Dylan Aleman, who plays budding musician Drew on the show. "We just had fun walking around downtown New Braunfels, driving around listening to the songs on the show, and having fun going to different stores to pick it out."
The stage uses a platform on the second floor and a miniature stage on the main stage to set the tone for a show intended to delight and entertain the audience. Enhanced by musical instruments as props, the soundtrack is backed by supercharged dance moves that one would find in any 80s rock and roll music video, whose choreography was heavily influenced.
"It's very '80s inspired," said Devin Towery, who helped choreograph the musical and lent her acting skills to the show. "I personally watched the original shows and a lot of the music videos and it was really fun. I thought it was going to be tough (because) I'm mostly trained in ballet…but actually it turned out better than this what I expected.
The show is packed with performers who have a background in dance and theater and have spent their evenings three days a week for four hours for the past six weeks rehearsing in the theater group's humble studio to bring the show to life. .
However, performance space can be difficult to find for the theater company, which was formed in 2012.
With no real theater, the band had to rely on the few stages available in New Braunfels such as The Brauntex and the New Braunfels Civic/Convention Center and only during the days leading up to the show.
With The Brauntex expanding its entertainment, the registered nonprofit, which puts on about 10 shows a year, fears it won't be able to put on the same number of shows it has done in the past and finds itself in desperate need. of a theater of their own.
But the show must go on.
From the fourth-wall-breaking music, costumes and style of its cast and plenty of adult humor, the show encourages audience participation for an entertaining show experience while serving up a whole lot of '80s nostalgia.
"It's a cool way to share an experience with your parents that you weren't there for," Garrett Bettersworth said. "We're taking it back to the old days. If you lived during this era, you will definitely have flashbacks.
The curtain goes up on Rock of Ages at Brauntex beginning Friday, July 29 at 7:30 p.m. and again on Saturday, July 30 before ending with a Sunday matinee at 2 p.m. Tickets are available online at The Brauntex website or can be purchased from the theater group's website.
To learn more about the theater company, find upcoming shows, or to support them on their journey to finding a permanent location, please visit https://nbperformingarts.com/.