J. mayer h. wraps its newly completed tower in a "zipper" facade
a hybrid skyscraper in dusseldorf
J. Mayer H. Architects unveils newly completed skyscraper in Germany nicknamed 'Zipper' RKM 740 Tower. The project was built in response to a growing increase in the urban density of the area, in Düsseldorf-Heerdt. Changes in the urban fabric have led to new types of hybrid high-rise buildings, the latter being home to the workspaces for various medical practices alongside residences.
'Our ZIPPER project is part of the latest generation of these mixed concepts', note the architects, 'the resulting synergy effects with global health give the existing hospital a cross-regional significance as a "prototype of a hospital of the future"..'
pictures by David Frank | @davidfranck.deunless otherwise stated
a new landmark along the rhine
J. Mayer H. Architects places its Zipper Tower in a larger campus along the Rhine. The sprawling site combines housing with healthcare facilities and marks the transformation of a former park on the grounds of the Dominikus-Krankenhaus hospital. This ambitious undertaking is signified by the recently completed skyscraper – the winner of an international design competition in 2011 – which the design team describes as a 'striking emblem of this transformation, visible from afar.'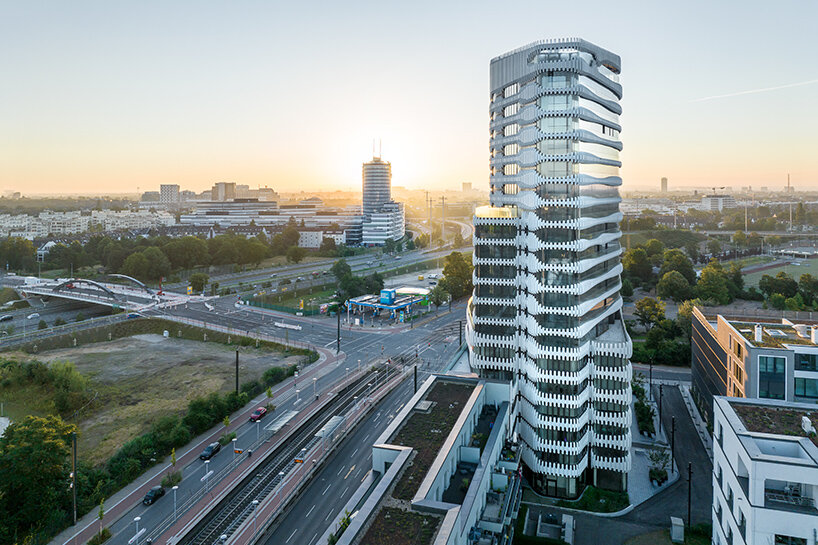 the 'zipper' facade by J. Mayer H.
The architecture takes shape with a unique perforated metal facade, a curtain that serves to shade the interiors. The facade is designed in collaboration with facade consultant Ebener, and is characterized by its soft curves and zipper-like patterns, this skin opens and closes strategically depending on the orientation of the building.
The team explains: 'On the east, south and west sides of the building, the corrugated shell opens generously while providing protection from shade and wind. On the north side, the facade is closed to ensure sound insulation from traffic.
'Like a zipper, the transitions between open and closed are gradual and allow flexible adaptation during the development process over the years..'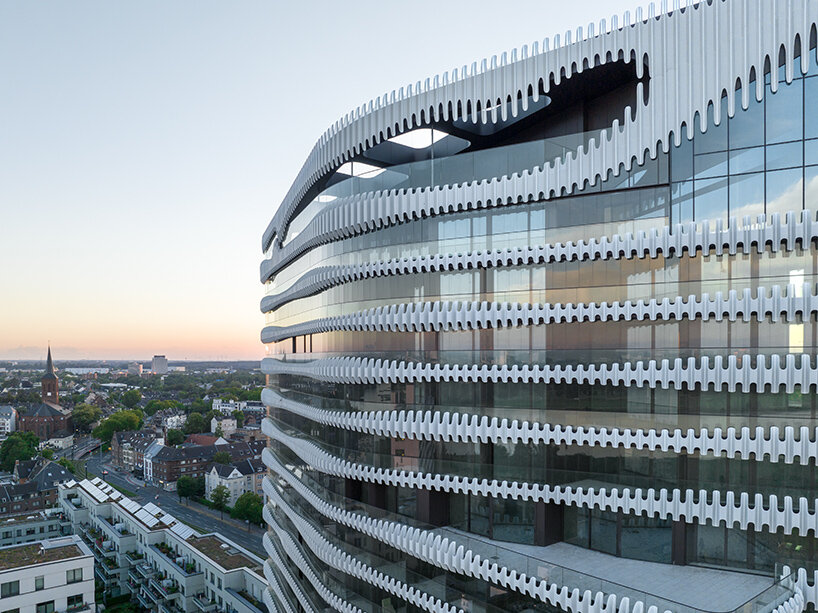 inside the tower
The architects describe the programmatic organization of the Zipper Tower: "The combination of group practices, specialists and therapists in the lower six floors of the building offers synergies with the existing hospital to create a medical health center of a importance that goes beyond the local Region.
"The fourteen floors above feature a vital mix of various residential forms resulting in transparent, light-flooded living spaces with generous terraces, balconies, loggias and rooftop gardens."