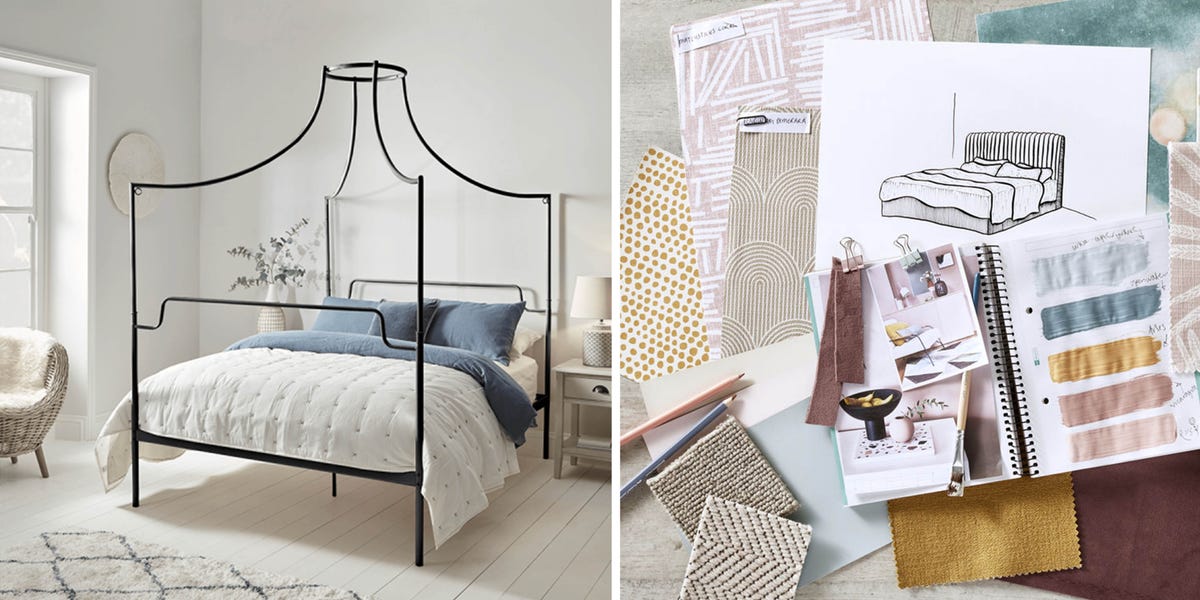 How to design a bedroom like an interior designer
When undertaking a home overhaul, each room requires different design considerations and can pose different dilemmas. A functional kitchen requires meticulous floor planning to create the right flow, in a living room it can sometimes be difficult to place your focal point, while a bedroom needs a more holistic approach to create an environment conducive to sleep. .
Dr Lindsay Browning, psychologist, neuroscientist and sleep expert at And So To Bed, said: "Our bedrooms can tend to be the neglected rooms in our house, with mismatched colors and full of clutter. We tend to prioritize social spaces in the home like the living room and kitchen for renovations and our own bedroom may be last on the to-do list."
"However, your bedroom should be your top priority when decorating and furnishing your home. It's where you spend at least 1/3 of every day and should be your sanctuary to recharge your batteries. A thoughtful and carefully created bedroom will help you sleep well and feel calm and happy every day."
Below, interior designers and experts explain the steps to take when planning a bedroom makeover.
---
1. Find your inspiration
"Start by looking for creative inspiration – find anything that inspires you or brings you joy and start collecting images," says Amy Wilson, interior designer at 247 Blinds and 247 Curtains. "Good sources of inspiration can come from interior design magazines, on social media, or even visiting a cafe with an aesthetic you like – take photos or screenshots and save them all to the same place."
"Include images that are not interiors. Look for at least one image that appeals to you. Often a beautiful landscape can offer direction on color or a fabulous outfit can help you think about how to layer a room arrangement. »
"I would personally suggest creating a physical mood board so you can include material swatches, magazine clippings, or exact paint colors, it makes it all feel a bit more real and lets you test things out with more If you're more digitally minded, there are some amazing moodboard apps that can help you create aesthetically pleasing boards."
2. Choose your color palette
"A bedroom should be seen as the ultimate sanctuary space," says Camilla Clarke, Creative Director at Albion Nord. "We fully embrace soothing colors, especially soft blues and greens with warm lighting, as it gives a sense of calm and serenity."
Michael Rolland, MD of The Paint Shed, suggests a soft pink. "Sulking Room Pink by Farrow and Ball is an understated pink with enormous warmth, it has a powdery feel that makes it incredibly soft and easy to use with complementary tones. It's the most sought after pink paint shade with 10,370 average monthly searches, one of the most Instagrammable with 19,800 uses of #sulkingroompink."
"We are also far from done with the sage green trend, this beautiful hue is straight from nature and is perfect for creating a calming space, due to its connection to the outside world, green is one of the most comforting colors that attracts harmonious feelings that can diffuse anxiety and help us stay calm and refreshed, perfect for a bedroom."
3. Plan the right flow
There are a few simple design tricks you can use when planning your bedroom layout – marking the outline of your furniture with tape or newspaper on the floor can give you an idea of ​​the space and flow as you move.
Picking up some feng shui principles could be a helpful starting point if you're faced with a blank canvas. Here are some do's and don'ts of feng shui in the bedroom:
Do place your bed in a dominant position. When you are in bed, you should face the door without being directly aligned with it.
You do not do want all doors to open directly in line with the bed, especially where your feet are pointing towards the door
Do place your headboard against a solid wall, with space available on the other three sides of the bed
Do not place your headboard against a wall that has a toilet on the other side
Do not place your bed under low beams, soffits, or sloped ceilings, if possible
Do keep the space under your bed free of clutter
Do not have electrical appliances in the room
Jonathan Warren, Director and Bed Specialist at Time4Sleep, says: "Usually I would advise not placing your bed under a window, as this can block your view of the outside and also maximize the chances of a draft. cold air disrupts your sleep pattern. However, not all of us have the luxury of space, sometimes sleeping by your bedroom window is unavoidable, in which case opting for a low headboard will allow the maximum amount of light to reach you and will limit the clutter in your room. window view."
4. Consider wall coverings
Country bedrooms usually feature a pattern in one form or another, and even if you choose to paint the majority of your room, wallpaper can still be used to create a feature wall behind your bed or to frame your best source. of natural light.
"The interior of our rooms should be as individual as the people who live in them. Don't be afraid to choose a more extravagant style as that only adds more character," says Martin Weller, founder of Andrew Martin .
"When choosing wallpaper, consider the size of a room. Smaller-scale patterns work well in larger rooms, but can overwhelm small spaces. Larger-scale patterns work well in most rooms. rooms, but consider the lighting, as this can affect the appearance of the wallpaper and make a color appear lighter or darker."
"Wallpaper has a huge impact on the feel of a room, so getting the design right is essential. Go for darker, more dramatic tones such as purple or navy blue to make larger rooms more intimate or choose lighter shades, such as gray to create the illusion of space."
5. Design your lighting scheme

"In the bedroom, lighting is key to ensuring a good night's sleep, the ultimate act of self-care," says Amy. "Blackout blinds, combined with soft bedside lamps and lovely blankets layered over the bed will help you fall asleep smoothly."
Ambient light is most important in a bedroom (most designers recommend layering ambient light with task lighting for reading and accent lighting for showcasing artwork or mirrors. ) a warm, yellow light that can increase sleep-inducing melatonin levels – 40 watts or less is ideal for creating the right mood lighting.
"Keep the lighting as soft and warm as possible, use wall sconces or table lamps where possible, and avoid too many spotlights, which make it stark and imposing," says Camilla.
6. Declutter and Modify Your Stuff
Marc Epstein, interior design expert and creative director of CARME Home suggests taking the Marie Kondo approach. "Live only with things you love. As Marie Kondo says, "Does it bring you joy?" Really consider what you keep in your home and why. you really love will help create positive energy.Then get everything organized!Once your home is decluttered and organized, it leaves room for more of the things you really love.
Lucy Ackroyd, Head of Design at Christy's, says: "While there are certain items you really can't part with, make sure you have enough storage space in your home to neatly organize your things so so you can come back to them when you need them."
"Whether it's adding dividers to your drawers or setting up shelves in your air closet to store your spare bed linens and towels, an organized storage system can help you keep the control of your home and feel in control."
7. Incorporate textures
"Consider texture as important as color and pattern," says Camilla. "There is nothing worse than a flat design. Interiors aim to evoke the senses and so texture is an essential ingredient in every design to stimulate our senses of sight and touch. Try mixing different textures such as natural linens with soft velvets or robust leathers with thick wools."
"Texture can be incorporated in many ways, and contrasting them can transform the look of a room," Amy explains. "Whether you opt for plush velvet curtains or lightweight voile drapes, a polished floor covered in a tasselled rug, or even textured wallpapers or artwork, it can all help make the space multidimensional. ."
This content is created and maintained by a third party, and uploaded to this page to help users provide their email addresses. You may be able to find more information about this and similar content on piano.io