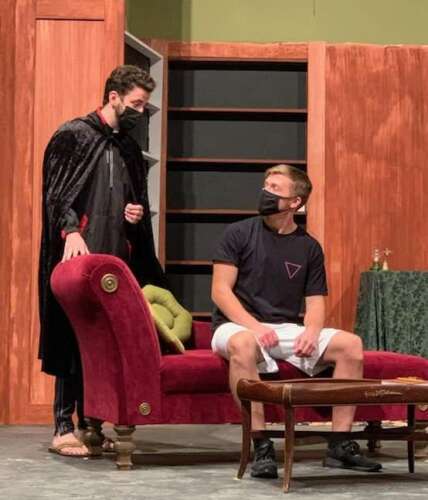 Down for the Earl in Crest – Times News Online
Posted on October 29, 2021 at 11:37 p.m.
Cedar Crest College's Performing Arts Department Presents First In-Person Drama In 18 Months With Classic Vampire Thriller, "Dracula," For Halloween Weekend October 28-31, Samuels Theater, Tompkins Center , Allentown.
The production is based on the Gothic novel "Dracula", written by Bram Stoker in 1897.
Crane Johnson's theatrical adaptation changes the gender of vampire hunter Dr. Van Helsing to a woman. The original production opened at the Royal Playhouse in New York in 1973 and ran for one season.
In the plot of the series, while preparing for her wedding, Lucy Harker suffered from a mysterious illness, which worried her aunt, Mrs. Harker, and her fiance, the scholar Dr. Seward. Two small pinpricks on the young woman's neck are the only indication of her illness.
Things are not helped by the bewildering presence of Renfield, a strange man whose bizarre behavior of eating flies and birds is observed by Seward for scientific purposes.
Fearing that Lucy's illness may be rooted in unnatural phenomena, Seward calls Van Helsing to help him investigate Lucy's strange illness.
Under Van Helsing's questioning, the odd facts of Lucy's case begin to emerge. When a new Carfax Hall neighbor, Count Dracula, comes to call, Van Helsing begins to suspect that the Count may not be exactly what he appears to be.
Once the truth emerges, there is a desperate race to save Lucy and the others from Dracula's evil clutches, and to find and destroy the vampire in his secret hiding place.
Clair M. Freeman leads the cast of Cedar Crest College students Carter Reichard (Dr. Van Helsing), Lizbeth Parra (Lucy) and Sofia Barbour (Abigail), Northampton Community College students Brandon Costanzo (Renfield) and Alex Kleinschmidt (Dr . Seward), London Griffith (Mrs. Harker) and Ryan Patrick Allen (Dracula) from Lincroft, NJ, a student at Lehigh Carbon Community College.
Performances take place October 28, 29 and 30 at 7 p.m. and October 31 at 2 p.m.
The actors will wear face masks. Spectators are required to wear face masks.
This is the second in-person performance of the college's 2021-'22 season. The first show, "Broadway or Bust," a music review, premiered in September.
The last show presented in person by the Crest Performing Arts Department was "Into the Woods" in February 2020, before the coronavirus pandemic (COVID-19) shutdown.
The fall performing arts season includes "DanceWorks," November 18-21, and "VOICE Concert," featuring the choral ensemble Voices Of Inclusion, December 5.
The spring season includes the musical "You're a Good Man Charlie Brown", February 24-27, and a dance recital, April 21-24.
Tickets: www.cedarcrest.edu/stage; 610-606-4608
"Curtain Rises" is a chronicle about theater, live performances, their actors and the directors and artists who direct them. To request coverage, email: Paul Willistein, Focus Editor, [email protected]
CONTRIBUTED PHOTO Ryan Patrick Allen (Dracula), Alex Kleinschmidt (Dr. Seward), "Dracula", October 28-31, Cedar Crest College, Allentown.