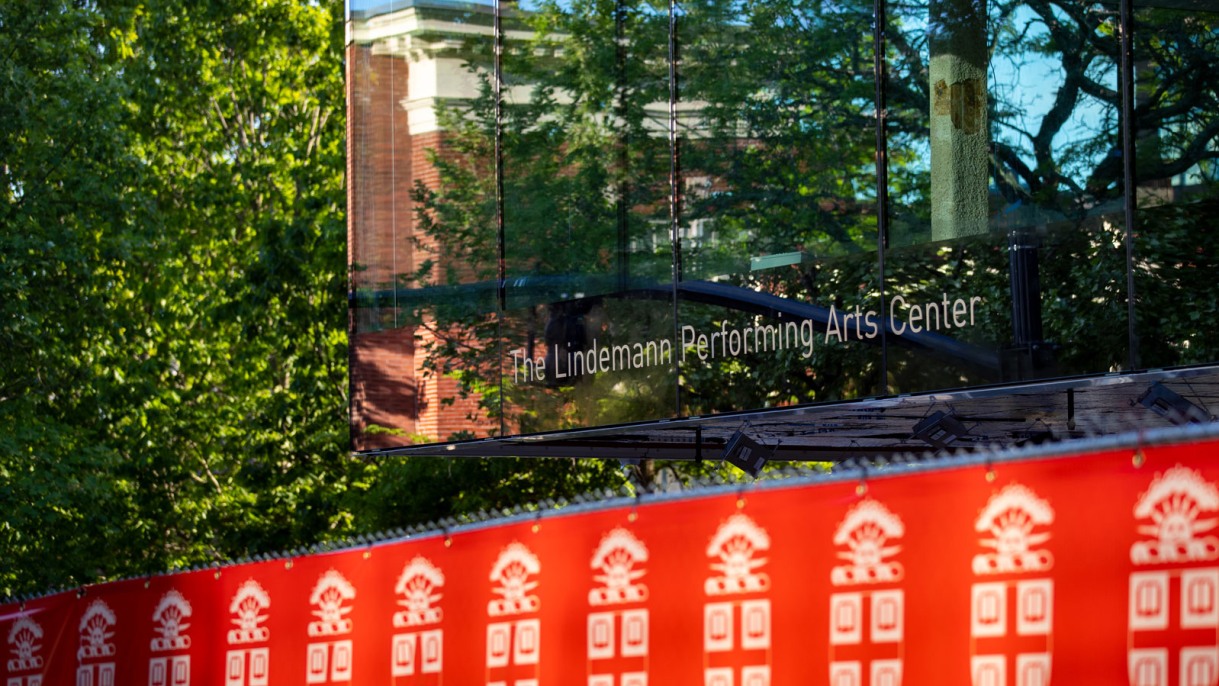 Brown names the Lindemann Performing Arts Center
Ms. Lindemann said that before her husband's death, he looked forward to supporting the Performing Arts Center project, which will expand Brown's ability to create and stage new and existing works, combine forms of art and to welcome world-renowned professors and artists to learn from and inspire students in disparate fields of study. She said she and Paxson share the belief that the arts play a vital role, not only in institutions of higher education, but also in communities around the world.
"The arts are what make us human and separate us from other species," Lindemann said. "Science, technology and medicine are critically important to advancing innovation and saving lives, it's true – but music, fine art, dance and theater are just as important, because they help us remember our humanity."
When completed, the center's main hall will feature walls, floors, seating, curtains, ceilings and moving lights, providing artists from the University and the community the opportunity to adapt the space to their specific structural, aesthetic and acoustic needs. The building will also feature a 13-foot horizontal glazed "clear floor" that spans the main level, revealing the interior of the Main Lobby and the Diana Nelson and John Atwater Lobby to passers-by in all directions.
"The 23rd century vision of a performance hall with moving walls will be a remarkable asset to Brown's boundless creativity students and art teachers," said Ms. Lindemann. "And I'm intrigued by how the transparent, lighted ground floor will allow members of the Brown and Providence community to see their peers create exciting performances as they pass by." When you see art being made, you feel something – you leave the everyday life of our world behind and step into a special place.
In addition to the range of configurations available in the Center's main hall – from a 625-seat symphony orchestra hall, to a 250-seat proscenium theater, to an immersive surround sound media cube experimental and flat-floor setup for film or visual art installations – a custom-designed suite of modern studios, rehearsal spaces and intimate performance venues for theatre, music, dance and more art forms will serve as daily academic resources for students and faculty at Brown.
Avery Willis Hoffman, artistic director of the Brown Arts Institute, said that thanks in large part to the generosity of the Lindemann family, the center is sure to inspire future generations of students, teachers and community artists to create cutting-edge original works of art and to re-examine well-known works, practices and traditions. Hoffman said that in addition to world-class projects from international guest artists, the Lindemann Performing Arts Center will host the work of artists, performers and scholars across Brown's six art departments and the Rites and Reason Theater. , all of which are affiliated with the BAI.
"This investment in PAC is also an investment in BAI," Hoffman said. "This allows BAI to dream even bigger as we fulfill our goals of cultivating creative expression, stimulating discovery, and fueling innovative thinking, on campus and beyond."