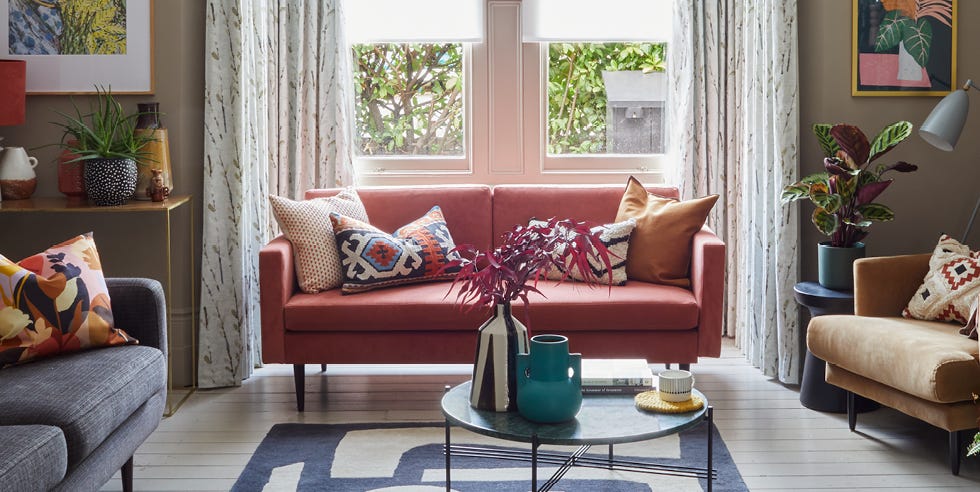 5 budget-friendly ways to create a maximalist look
After years of minimalism in our homes, there has been a move away from pared-back palettes and a less-is-more approach to rooms rich in color, texture and pattern.
Maximalism means filling your home with rooms you love and creating a space that's uniquely yours. But it shouldn't feel messy, and you don't have to commit 100% if you don't want to. Best of all, making an impact doesn't have to cost a fortune. So whether fall is the time to experiment with bold colors and prints, or just to step things up a bit with cozy tones and textures, here's how to switch up your scheme without starting from scratch.
1. Replace plain curtains with patterns

If you're worried about committing to aesthetics, it can be tempting to avoid patterns. But used thoughtfully, a little goes a long way – and window treatments are a great place to introduce additional design details, while keeping the look flexible. These subtle Hillarys Amerlia Clay Leaf Pattern Curtains work well with other prints, but are neutral enough to fit into a more subtle palette as well.
Use the slider below to see how patterned curtains can work in both minimalist and maximalist design

Combined with roller shutters to provide privacy while protecting furniture from fading, these floor curtains also add a practical touch. If you need inspiration for transforming your window furniture, there is a wide range of treatments available from Hillarys. Book a appointment at home with an expert advisor, and they can provide advice on style and difficult bay windows, as well as measurement. Your advisor will also take care of the fitting, so you can expect a perfect finish.
2. Get creative with color

Much like pattern, the introduction of color is a great way to refresh a space for a changing season. And that doesn't mean big investments in new furniture – opt for accessories such as Hillarys cushions, vases and throws to add bright pops of color. If you want to take it down a notch, mix in paler versions of your key shade – for example, a soft terracotta cushion and salmon striped throw paired with a coral sofa.
"For a more maximalist finish, just increase the presence of a strong tone, like coral here," suggests the interior designer Sam Grigg. 'To keep everything from being too coordinated, introduce the majority of color via patterned furniture. These can also include other accent shades you want to bring.
3. Increase the texture
Chunky or sheer, texture is key to any room makeover. "Anything that has more presence in the room will add extra energy," says Sam. For a warm and cozy vibe, introduce heavily textured stoneware and throws. For a more serene feel, choose a few tactile pieces, like a velvet throw pillow or beautifully woven curtains.
Living rooms can really benefit from Roman shades or curtains in textured fabrics, as they help soften hard surfaces such as glass, concrete or lacquered furniture. You can also bring wood and metal elements with an eye-catching curtain rod from the range at Hillarys.
4. Warm up your walls

As the canvas of your room, the tone you choose for your walls will set the tone for everything else. "An easy way to maximize pale walls is to see if the company you used has a more pigment-rich version of the shade you chose," Sam says. 'For example, the paint shade in our bedroom maximalist (photo) is Little Greene's Rolling Fog, so you can check out its color chart for the darker paint if you want to create something even bolder, or a lighter tone for a softer look. This way you won't have to redesign all your furniture because you know the shades of the paint color will be the same.
5. Personality Layer
Personal touches add energy to a room, so finish a look with plants and artwork. "In a minimalist room, I would suggest a print with a simple abstract design, something that fades," advises Sam. "But in the maximalist home, the art should have a vibrancy. In this space, loosely linking the coral sofa and caramel armchair to the palette of the two artworks, it really ties the room together.
Discover the full range of blinds, curtains and services on hillarys.co.uk, where you can also make an appointment at home.