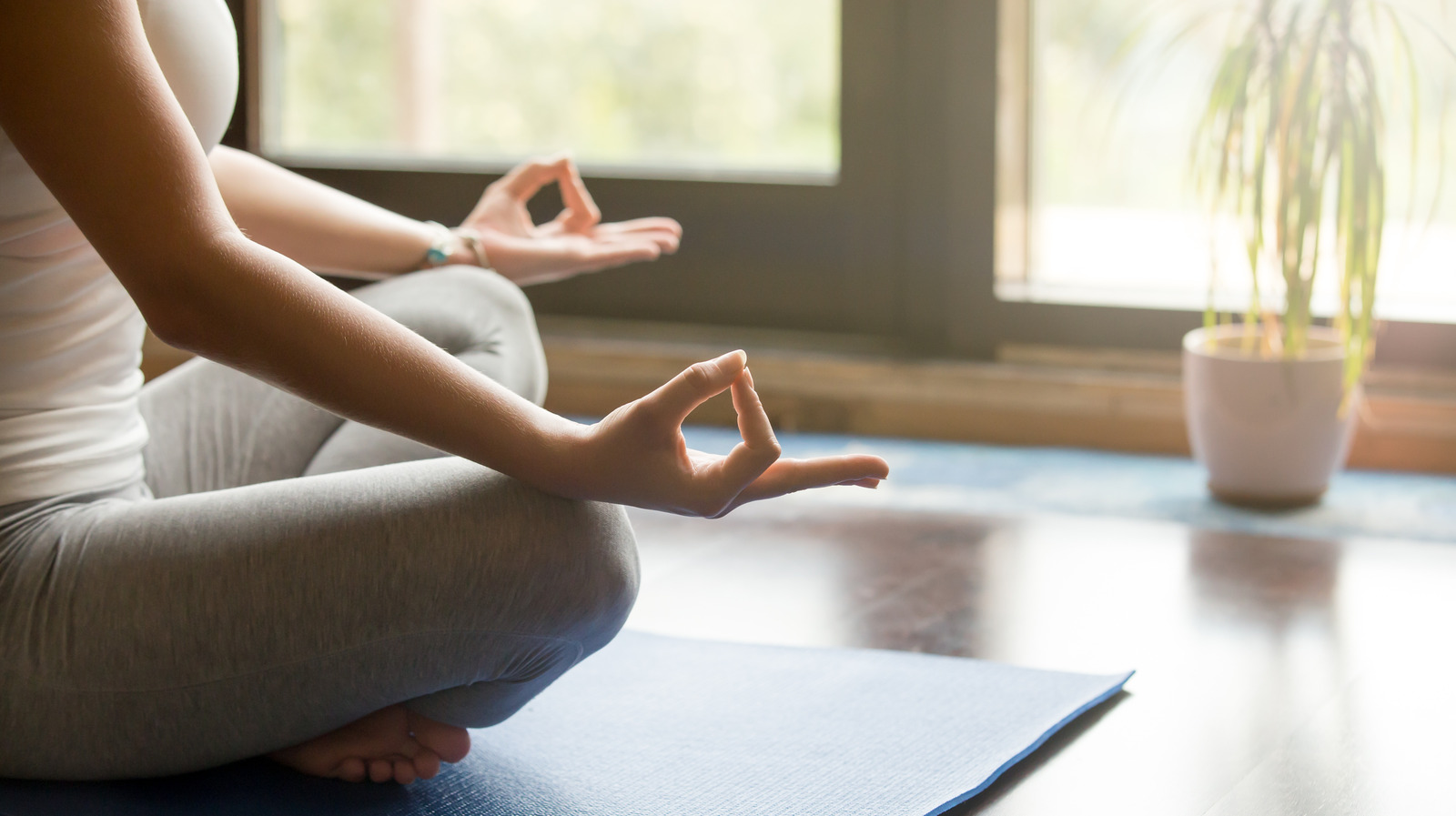 30 Zen Yoga Rooms That Will Take Your Practice To A New Level
If you love yoga, but your home practice is a little outdated, it might be time for a change. No matter what your home looks like, you can turn any room into a yoga studio. All you need is some basic equipment and a bit of creativity. But if you're short on space, consider using a corner of your living room or bedroom – just make sure the area is quiet and free of distractions. As Yoga Diary explains, the site should have a sense of serenity and stillness.
One of the benefits of having your own yoga room or corner is that you can customize it however you want. Add diffusers, candles or crystals to create a peaceful and relaxing atmosphere. Natural light and plants are also key to bringing a Zen feel to your yoga space. Keeping the colors simple is another essential; stick to neutral or muted colors to create a calming atmosphere. Plus, opting for minimalist furniture will help you focus on your practice without distractions. If you're looking for inspiration, check out these Zen-inspired yoga rooms.
1. Large open space
This luxurious and airy space has all the elements of a large yoga studio, all from the comfort of your home. Floor cushions add seating and an attractive design when stacked. Light streams through the curtains, bringing warmth and illumination to the minimalist room, and the view from the balcony enhances the relaxing vibe.
2. Light and airy
Lighting is a crucial part of setting the perfect mood in your yoga studio, and this room has the perfect amount of it. Soft, flowing curtains lend a soft touch to the area, allowing plenty of sunshine to stream in, and the simple tree adds a touch of greenery.
3. Plants purify the air
Adding plants to a Zen-like yoga room can help clear the air and create a calming space. You can use potted or hanging plants or bamboo to add a touch of Feng Shui to the room. Even intentionally placed tiny succulents can beautify the area.
4. A muted backdrop helps
The gray painted backdrop of this room gives a nice soft color for a yoga room. As an accent piece, the zamioculcas plant adds a splash of color, injecting the right amount of zen into the yoga space. We also love the black yoga mat because it adds a nice contrast.
5. Mirror mirror on the wall
Placing a large mirror in the room can add a lot of dimension to an otherwise small space and create a feeling of spaciousness. When you practice yoga, you can also use it to observe your poses. Mirrors are, in fact, a win-win decor item for any yoga room.
6. Small room, big ideas
Even if you don't have the space for a dedicated yoga room, you can easily create a space in your home. With proper lighting and plants, you can create a tranquil atmosphere for practice. Yoga can be done almost anywhere with the right elements!
7. Add ambiance
When you add candles to the room in which you plan to practice yoga, you give a beautiful ambiance to the atmosphere. They release wonderful scents to relax you, making your yoga session even more serene. If you're not comfortable with real candles but still want the ambiance, you can always use battery-operated candles.
8. Sacred Living Space
With a simple loveseat, a small mirror, and clever shelving solutions to keep clutter away, this room is the perfect place to practice yoga. It has all the elements of a large studio, and the small side table and practice ball easily transform this living room into a safe and sacred space.
9. Integrate a television
There's nothing wrong with having a TV in your yoga space. But one thing you can do when doing yoga is to put in a calming channel. Try to find something relaxing and meditative. It will be even more beneficial if it is music.
10. Golden Light
The golden hues in this room create a space of caring and enlightenment. With a large work of art to focus on, you will be able to concentrate more easily during training. Small shelves are for your favorite things that bring you joy, including a long shelf that runs along the bottom of the piece.
11. Sky at Sunset
This room with the beautiful sunset view has minimal furniture, making it a great place to practice yoga, meditation, and even light exercise. A floor lamp adds an extra glow to the space, and you can stream a yoga program on the TV to aid your workout.
12. Bright White
This room is flooded with light and the bright white brick wall is a great place to add simple artwork. Although only two small greens, they add a cheerful touch to this minimalist space. When creating a yoga room with meditation in mind, less is more.
13. Add color
You can add color to your yoga space by painting an accent wall. This piece appears with a few teal accessories but is kept fairly simple. The addition of small pottery and some plants makes the area very zen, and one can practice yoga or other meditative practices effectively.
14. Views from the balcony
If you have a large window in your home and can use the space to do yoga, take advantage of it. The sunlight will warm you up and energize you for your session. It will make you feel closer to nature with that wonderful daylight, and even better if you have beautiful views of the trees.
15. Love and Light
This small space accommodates everything you need for the practice of yoga. It lets in light and there is even space for a laptop, which can be used for your practice. The beige walls are simple and create a soft warmth in the room.
16. Consider accessories
Don't forget to incorporate other elements that can soothe or help you meditate. For example, crystals and even singing bowls will allow you to set your intention and focus. Floor cushions and a colorful yoga mat set the calm tone of the room before you start your session.
17. Warm and welcoming
This fantastic yoga room takes up a small space and creates an ideal space for doing yoga. Plants on the wall add a sense of serenity to the space, while pendant lights are there for ambient lighting. A hammock as a finishing touch makes this room usable for lounging when you need it.
18. Gorgeous greenery
This bedroom combines all shades of green, from the deep hue of the plants to the light color of the pillows on the floor. Simple wooden shelves add dimension and create space to place your unique knick-knacks and decorations.
19. Simple yet Sophisticated
This is another great example of making the most of a small space. A yoga mat intentionally placed in front of a sunny window does wonders for your mood. A drawer with a variety of greenery on top provides nice visual aids to focus on during your session.
20. Support and Simplicity
This clean and quiet yoga room helps achieve the desired meditative state. Just a small table with yoga blocks and a floor headrest creates a pure and clean space that is ready for practice anytime.
21. Live colorfully
This home yoga room has everything you need to exercise, practice yoga and meditate in a bright and airy space. From colorful exercise balls to bright red dumbbells, this piece is all about cheer, and you can recreate this look with your favorite colors to really make it your own.
22. High and open
If you're lucky enough to have a loft in your home, a great way to use it is to turn it into a Zen yoga room. Attics generally have excellent access to the sun; if you add some greenery, you will have a peaceful oasis for yoga practice.
23. All You Need
Bright, white tiles reflect light very well and can help create a relaxed look. You can even grab a small plant that may be on your desk and place it with intention and purpose, and you have something to focus on. Headphones can help muffle sound or listen to soothing music.
24. Yoga Anywhere
The large windows let plenty of light into the room, giving you a space to bask in warmth while you work out. Light can also be energizing and uplifting, encouraging your yoga session. This small space makes the most of every inch of this sun-infused yoga room.
25. Dim lighting
If direct sunlight is too much, you can easily use blinds or shades to control the amount of flow in the room. You can create a quieter, subdued space this way, and a singular plant in the corner will add some liveliness to the room.
26. Keep It Simple
Featuring beautiful decor placed all around the room, the huge houseplant in the background can help you ground yourself and feel closer to Mother Earth. It's about being with yourself; we can do it in this room. It's a great space for doing yoga and an even better space for meditation.
27. Keep everything in order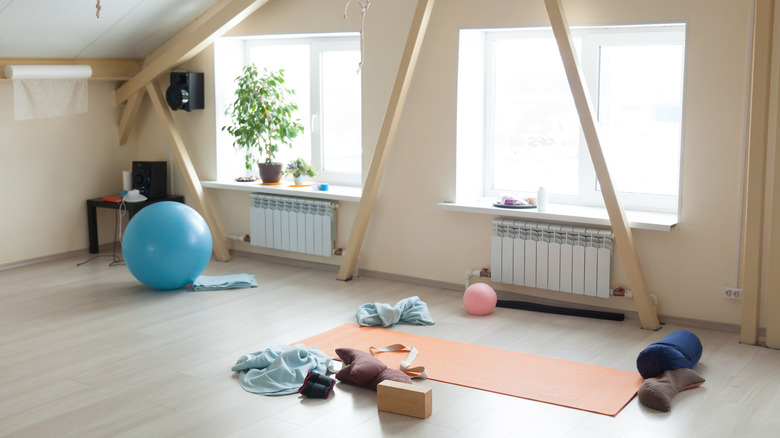 fizkes / Shutterstock
This room can be not only a home yoga studio, but also a home gym if you wish. Once you have all the exercise equipment you plan to use; you can rearrange them as you see fit. But simplistic and minimalist are what to look for when creating a sacred space.
28. Go Green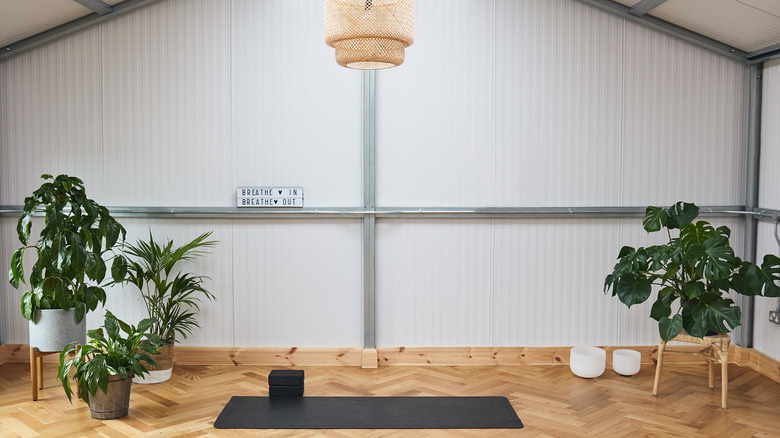 JORGE CORCUERA/Shutterstock
Filled with greenery all around, this home yoga studio is stunning. It provides plenty of room to move around when changing yoga positions. A lovely mantra to remind you to breathe creates a harmonious space where you can go and just be.
29. Modern Life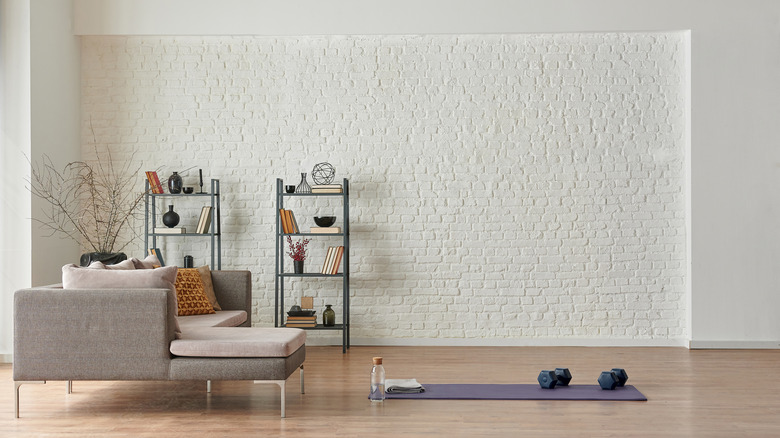 united photo studio / Shutterstock
This simple and organized space allows you to do yoga simply by unrolling your mat. There is a lot of light shining in this room, and the modern decor that is featured matches well with the plain walls. Plus, you can jump in and take a nap after your yoga session.
30. Lots of space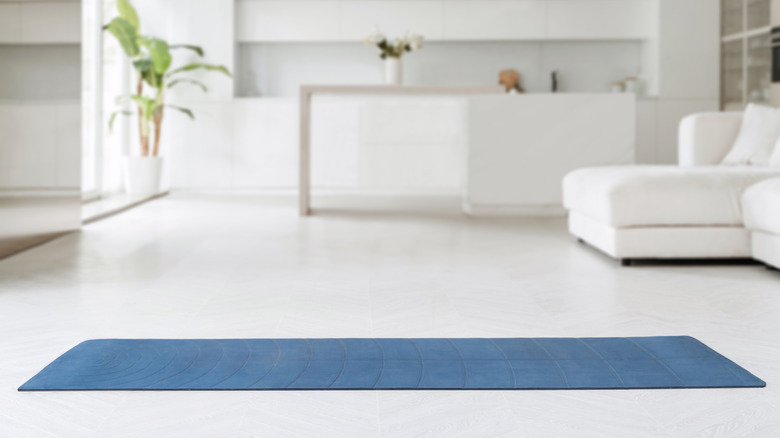 Arsenii Palivoda/Shutterstock
The beautiful white furniture makes a great backdrop for a colorful yoga mat. Plants and a pretty bouquet in the background add to the ambiance of this living room-turned-yoga space. Both beginners and advanced yogis can enjoy a sense of blissful calm in this zone.