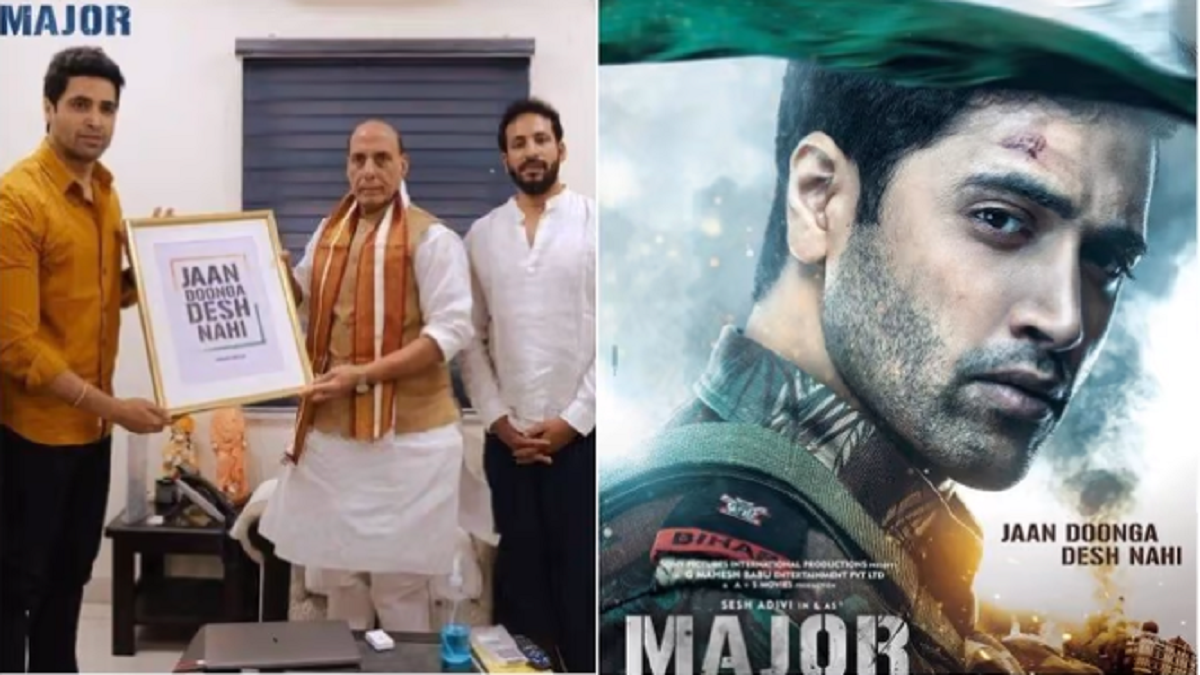 11/26 Trailer for the film based on the attack presented to Rajnath Singh, read on to know more about the film!! –
The upcoming Major movie is one of the most anticipated films of this year. The film is a very passionate and loving story of love and sacrifice for the country based on the life of Major Sandeep Unnikrishnan, who was martyred saving dozens of people during the 26/11 attacks. In such a situation, as the release date of the movie based on his life draws near, public interest in it draws near. Meanwhile, recently, the makers of the film also had the chance to have a special meeting with the country's Defense Minister, Shri Rajnath Singh.
Adivi Shesh with Shri Rajnath Singh
Film actor Adivi Shesh and director Shashi Kiran Tikka met with the Defense Minister in Delhi. Meanwhile, the team showed the trailer of the film to the Union Minister and also discussed the story of the national hero. Adivi Shesh plays the lead role of Major Sandeep in the film. Rajnath Singh beautifully lifted the curtain on the film's tagline. The film's slogan, 'Jaan Dunga Desh Nahi' in tricolor characters was prominently displayed on a white canvas. Major Sandeep, who installed these words in his life, spent his whole life using these words. The film's tagline evokes the spirit of the film, the spirit with which it looked at the world. For him, the country has always come first.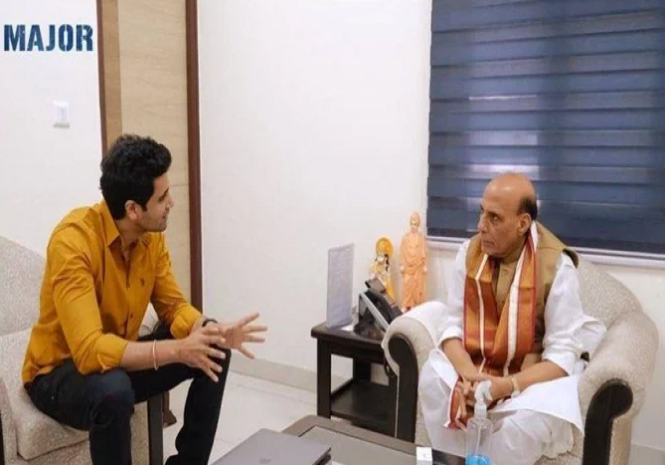 Adivi Shesh with Shri Rajnath Singh
During the meeting, the Minister of Defense appreciated the team for their efforts. Rajnath Singh ji praised directors Shashi Kiran Tikka and Adivi Shesh for presenting the story of a brave hero from India. The directors will soon organize a special screening for the Minister of Defense and his family. Based on the life of Sandeep Unnikrishnan, Major will see different phases in the life of this brave soldier of the country, in which the glimpse of his dedication, courage, sacrifice, love and spirit of life has been very well captured. The film is directed by Shashi Kiran Tikka. Stars like Shobhita Dhulipala, Sai Manjrekar, Prakash Raj, Revathi and Murli Sharma will be seen with Adivi Shesh in the film. Audiences will be able to watch this film in Hindi, Telugu and Malayalam, which will be released on June 3, 2022.